Accoona links D&B data to its search engine
(chinadaily.com.cn)
Updated: 2005-05-19 10:16
New York--Accoona.com, one of the world's most comprehensive online business databases and business search engines, enhanced its searching prowess by launching its D&B business database search functionality this week.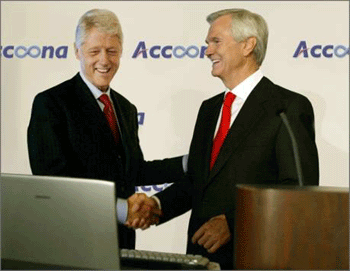 President Bill Clinton performs first Accoona.com Search withChairman Eckhard Pfeiffer, at The Accoona Launch, December 6, 2004. (chinadaily.com.cn)
The Accoona Business Search Engine, already boasting the world's largest free online database of business information (up to 35 million companies), now incorporates D&B information on up to 14 million US companies.
The D&B Brand has stood for high quality business information for more than 160 years. D&B's unique DUNSRight Quality Process, the power behind business insight in the business information industry, collects, aggregates, edits, and verifies data from thousands of sources daily. D&B's ability to turn an enormous stream of data into high-quality business information is what sets it apart from its competitors.
The international value of this Free Search Service is incredible, Chinese Business search users are now able to access for free, WITH JUST ONE CLICK, Business information on almost every US company, at www.Accoona.com.cn and www.Accoona.com. And the Business Search Platform with the D&B integration is also available at www.chinadaily.com.cn.
Accoona users are now able to access instant data such as Company's Yearly Sales, Employee count, Primary contact information with phone, fax, and email, Business Description, and Corporate Locations.
The Accoona search engine launched at the end of 2004 is a revolutionary business search engine utilizing a new and proprietary artificial intelligence technology to deliver the most relevant business search results. Accoona has filed a patent for its "Apparatus, Method and System for Artificial Intelligence for Data Searching Applications," with which users can better search for information by highlighting and emphasizing keywords.
The Accoona/D&B Business Database will also be updated regularly, to ensure accuracy and current business information.