China slams US over textiles, denies yuan manipulation
(Agencies)
Updated: 2005-05-19 10:01
China slammed the United States and European Union for "unfair" and "protectionist" actions to counter its booming textile exports while dismissing claims it manipulated its currency to gain an unfair trade advantage.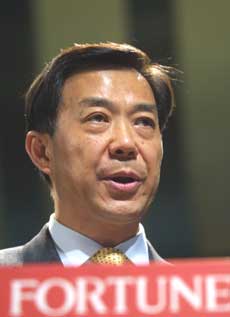 Bo Xilai, China's commerce minister, speaks at the Fortune global forum in Beijing May 18, 2005. Bo said the US and EU moves to restrict China's textile exports are unfair. [newsphoto]

Commerce Minister Bo Xilai blasted developed countries for arguing for global standards on free trade when they enjoyed absolute advantages but then placing restrictions when their interests were threatened.

Under World Trade Organisation (WTO) rules, such "double standards are not allowed," he said.

The US and the EU were unreasonably blaming China for rapid growth in its exports and were taking "protectionist" actions to counter this.

"This is unfair," he said, adding that these kind of moves "undermine the solidness of WTO rules and generate a negative impact on the ongoing round of (WTO trade liberalization) talks."

At the same time, China said the United States should first get its "own house in order" before charging that Beijing's currency regime poses a risk to its trading partners.

"We cannot accept that," said Wei Benhua, China's State Administration of Foreign Exchange deputy administrator in reaction to a US Treasury report stating that China's "highly distortionary" currency regime threatened global growth.

"We do have a surplus with the US. However we also have (trade deficits) with many of the European countries ... and also with the Southeast Asian region," Wei said at a forum in Singapore.

"So how do you manipulate your currency just to get a surplus with the US?"

The US Treasury report stopped just short of saying China was a currency manipulator under a US legal definition, which could have opened the way to US sanctions, but warned it may earn that label if "current trends continue".

US discontent at Chinese trade policies has crystallized around the yuan's fixed rate currency system, with the yuan pegged for a decade at around 8.28 to the dollar.

Beijing maintains that it will not be bullied by the United States or any other nation into rushing any changes.

The European Union cranked up the tensions Tuesday when its executive arm launched emergency measures that could lead to limits on T-shirts and flax yarn from China if Beijing does not take more action to rein in its exports.

On Wednesday, European Commission chief Jose Manuel Durao Barroso added to the pressure, saying the EU was "ready to go further" than the emergency measures.

"In a few weeks there will be a new decision if there is not a constructive attitude" on the part of Beijing, Barroso warned in Paris.

French Industry Minister Patrick Devedjian said China could "quickly" announce high export taxes on its textile products to prevent the imposition of emergency measures.

Officials from the Chinese Textiles Federation told him they had proposed to the government "a high and fast tax on exports", he said in Beijing, adding that their recommendations were usually followed by the government.

To control its exports and placate its critics, China has already raised taxes and lowered export rebates on textile products and Premier Wen Jiabao vowed last week there would be more measures.

The EU move followed Washington's decision last week to re-impose quotas on Chinese-made cotton knit shirts and blouses, cotton trousers, and cotton- and man-made fibre underwear.

US critics claim that Chinese exports in general have enjoyed a massive boost from an artificially weak yuan, placing Beijing under mounting international pressure to revalue the currency.

The US Senate is due to vote in July on a bipartisan bill that would slap a 27.5 percent tariff on all imports from China if Beijing does not scrap the yuan-dollar peg within six months.

Beijing counters that it is this very pressure on the yuan that has fueled Chinese exports as factories rush to beat an expected appreciation in the currency.





Today's Top News
Top China News

China slams US over textiles, denies yuan manipulation




Premier Wen: China to sustain rapid growth




More aid to help Mideast peace process




US raising tensions over China's currency




Textile barriers 'unfair to China': Bo




Wu urges free trade agreement with Japan