Police chiefs to meet petitioners face-to-face
(Xinhua)
Updated: 2005-05-19 00:32
In the next three months, all of the 3,000-strong local Chinese police chiefs will receive petitioners face to face, aiming to address longsanding accusations of police abuse within a certain time limit.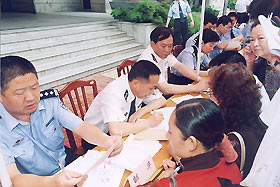 Shaohua, Police Chief of Xiamen, East China's Fujian Province talks with local residents on May 15, 2005. [newsphoto]

It is the first time that so many police chiefs have been required to meet with petitioners face to face since New China was founded in 1949, sources with China's Public Security Ministry said.

In Jiangsu Province, east China, all county-level police directors were required to receive petitioners from May 18 to 22, and 106 policemen were trained to ensure the qualified handling of letters and visits. In Chengdu, capital of southwestern China's Sichuan Province, seven leading officials of public security bureaus on Wednesday met with petitioners, even forgoing their habitual long noon naps.

"The principle of the campaign is that every petitioner should be received by the bureau chiefs themselves, and all petitions should be resolved or clearly explained," said Sun Yongbo spokesperson for the ministry. Police chief are also asked to organize timely investigations and case reviews, so that petitions can be solved expeditiously.

East China's Anhui Province tested a pilot program on April 23 in bracing for the larger campaign. The provincial public security chief, Cui Yadong, signed contracts with 17 city police heads to ensure the success of solving petitions.

"I felt ashamed when the petitioners granted their sincere thanks to me, because most their problems could have been solved earlier if our police staff had paid enough attention," he said.

The petitions submitted to public security organs are a "rain glass" that indicate China's social stability and a "mirror" reflecting the work of public security staff, said Sun.

A senior Ministry of Public Security official admitted that to date, a large number of petitions about police malpractice have not been solved in time, causing petitioners to rush to higher level public security organs and even gather in the national capital, Beijing, to air their grievances.

"In the past, some policemen were apathetic and indifferent or turned very brutal when handling petitions and even went so far as to refuse petitioners, causing citizens dissatisfaction and a large number of petitions to go unresolved," said the official.

The revised state regulation on letters and visits, containing new detailed regulations and requirements on handling petitioners, went into effect on May 1. The central government has also launched a general nationwide campaign to clear up all illegal activity among police and judicial staff.

"The new situation demands of the Public Security Ministry urgent resolution of current problems among policemen and public security organs," said Sun.

According to the ministry, six kinds of petitions will precedeall others in priority. They comprise petitions on unjust investigations; extracting confessions through torture; bending the law for the benefit of friends and relatives; abuse of power severely infringing on people's interests; and illegal fines.

The ministry has formed a supervisory group for oversight of the program. The performance of policemen in handling letters and visits from petitioners will be written into their work assessment records to serve as important information for their future promotion.

"We hope that all petitioners who have suffered from the malpractice of policemen or police organs, can take this opportunity to register their complaints in their hometown police bureaus," said Sun.




Today's Top News
Top China News

Premier assures business leaders of 'reasonable profits'




More aid to help Mideast peace process




US raising tensions over China's currency




Textile barriers 'unfair to China': Bo




Companies in China urged to help HIV carriers




Police chiefs to meet petitioners face-to-face