More aid to help Mideast peace process
By Qin Jize (China Daily)
Updated: 2005-05-18 23:37
China promised to extend aid to Palestinians to help establish lasting peace in the Middle East.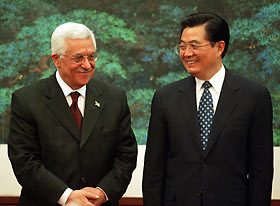 President Hu Jintao poses for photography with visiting Palestinian leader Mahmoud Abbas in Beijing on May 18, 2005. [newsphoto]
Visiting Palestinian leader Mahmoud Abbas received the pledge from Chinese leaders to provide economic aids health care and housing by the signing of five bilateral agreements yesterday in Beijing.
Abbas, on his first three-day state visit to China since taking over from the late Yasser Araft in January, held talks yesterday with President Hu Jintao, Premier Wen Jiabao and State Councilor Tang Jiaxuan.
President Hu said the Chinese Government and its people supports the just cause of Palestinians, saying the way to establish an independent Palestinian state is to conduct political negotiations on UN resolutions, and resume the Road Map peace plan.
He said China would continue to join hands with the international community to realize full and long-lasting peace.
Abbas voiced his appreciation for China's support for his people in their "struggle for freedom" at both political and economic level.
He said the two countries should further strengthen the contacts of high-level officials, enhance political dialogue and expand co-operation in various fields.
He said though the implementation of the Road Map peace imitative in the Middle East still faces many obstacles, Palestine is fully ready to continue with peaceful negotiations to establish an independent state "peacefully co-existing with Israel."
Yin Gang, an expert on Middle East issues, said to realize the interests of Palestinians through peaceful means has always been Abbas' belief.
He said to build an independent state, Palestine needs practical financial assistance from the international community.
Abbas also visited the Beijing urban planning centre earlier yesterday. Yin said: "The tour showed Abbas' desire and preparation to build and design his city rather than fight with Israel."
Premier Wen Jiabao told the Palestinian visitor the two countries should expand human resources development and training, adding China is willing to help Palestine nurture even more professionals.
Abbas said in an interview prior to his arrival that he hoped China could contribute more to settling Palestinian-Israeli conflict.
In recent years, China has sent its special envoy Wang Shijie to the Middle East several times in an effort to move forward the peace process.
Abbas will jet out to Pakistan today and will also go to Japan and India. As Palestinians prepare for July elections, their leader earlier told reporters he would contemplate a role for the radical Islamist movement Hamas in a future Palestinian cabinet, depending on the support it receives from voters.
(China Daily 05/19/2005 page1)
Today's Top News
Top China News

Premier assures business leaders of 'reasonable profits'




More aid to help Mideast peace process




US raising tensions over China's currency




Textile barriers 'unfair to China': Bo




Companies in China urged to help HIV carriers




Police chiefs to meet petitioners face-to-face