Premier Wen: China to sustain rapid growth
By Hu Xiao (China Daily)
Updated: 2005-05-18 23:37
China can sustain rapid growth and guarantee favourable conditions for foreign investment, Premier Wen Jiabao told a group of business leaders at the close of the FORTUNE Global Forum yesterday.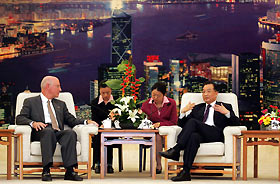 Premier Wen Jiabao talks with Time Warner Inc. Deputy Executive Peter Wolff at the Great Hall of the People in Beijing May 18, 2005. [newsphoto]
The country's large domestic market, its abundant supply of skilled labour, stable investment environment, political and social stability as well as the nation's commitment to peaceful development will ensure economic stability, said Wen at the meeting with business leaders headed by Time Warner's Senior Vice-President Peter Wolff.
Referring to the concerns of Western business circles such as intellectual property protection, the country's trade balance and its renminbi exchange-rate regime, Wen pledged China's commitment to handle such issues with a great degree of "seriousness" so that China's economic development will be in full compliance with the rules governing market economy and international trade."
The Chinese premier said global corporations should expect to make "reasonable profits" in China for the foreseeable future.
"China's economic development will not only serve the interests of the Chinese people but also benefit business leaders around the world on the basis of equality and mutual respect," Wen said.
Wolff highly appraised China's fast economic growth, saying that holding the FORTUNE Global Forum in China for the third time is a concrete evidence of the growing interest of world executives in China. Wolff said there is also the possibility of a fourth forum in China, following Shanghai 1999, Hong Kong 2001 and Beijing 2005.
"What is more significant is the greater number of Chinese executives participating in the forum," he said.
One of the topics at this year's event was how much longer China was expected to maintain the fast economic growth that has maintained at around 9 per cent per year over the last 20 years.
Showcasing the Chinese Government's support, President Hu Jintao made a keynote speech on the opening ceremony and more than 20 State Council's ministers attended the forum to give briefings on various aspects of the Chinese economic development.
Hu also said a developing China will bring opportunities to businesses around the world and benefit other nations as well.
During yesterday's talking with the business leaders, Wen also called for more attention on wealth distribution, saying that fairness and justice are important to the development of his country and the world in large.
Wolff said business leaders admire the economic, cultural and social accomplishments of China in the past two decades. He said they also admired poverty reduction, such as the development of western China, which has traditionally been behind coastal regions in East and South China.
(China Daily 05/19/2005 page1)
Today's Top News
Top China News

China slams US, EU over textiles, denies yuan manipulation




Premier Wen: China to sustain rapid growth




More aid to help Mideast peace process




US raising tensions over China's currency




Textile barriers 'unfair to China': Bo




Wu urges free trade agreement with Japan