Textile barriers 'unfair to China': Bo
By Zhao Huanxin and Cao Desheng (China Daily)
Updated: 2005-05-18 22:13
Minister of Commerce Bo Xilai has defended the principle of free and fair trade, branding recent foreign restrictions on Chinese textiles "unfair."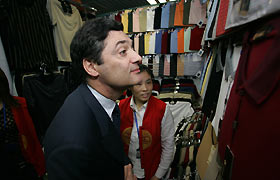 French Industry Minister Patrick Devedjian inspects clothing at Beijing's famous Silk Market yesterday. Devedjian is on a week-long trip to China. [AFP]
The minister was speaking at the FORTUNE Global Forum yesterday, where he stressed the world's free trade rules should be honoured and that double standards should not be used in international business.
In the Uruguay round of the World Trade Organization talks in 1995, developed countries agreed to phase out quotas on textiles and apparel imports within 10 years, Bo said.
But some countries had kept 70 to 90 per cent of the most important quotas in place right up to the end of last year, which in great part caused a short-term surge in China's textile exports in the first several months this year, according to the ministry sources.
"But at present, they blame China for the rapid growth in textile exports, (and thus) set restrictions on China's textile products and implement trade protectionism. It's unfair," the minister said.
The United States announced on Friday it had decided to re-impose quotas on Chinese-made cotton trousers, cotton knit shirts and underwear.
Bo said the world trade regulatory body has been around for 57 years, during which time developed countries have been competitive in most industries, and few developing members have had an edge.
China, a developing country, has spun a competitive textile industry after years of painstaking efforts. It is a sector with low added value, but provides a livelihood for millions of Chinese workers, Bo said.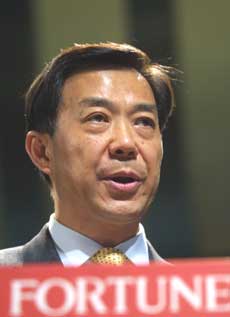 Bo Xilai, China's commerce minister, speaks at the Fortune global forum in Beijing May 18, 2005. Bo said the US and EU moves to restrict China's textile exports are unfair. [newsphoto]

"However, this small comparative advantage has encountered quota restrictions just four months after golbal textile integration," Bo said. "It is inconceivable."

He said there was no room for dual standards when the world is abuzz with free trade.

"When you have overwhelming advantages, you preach free trade, and ask others to open their doors. But you slap restrictions and shut your own doors immediately you are challenged by developing countries," he said.

This is obviously against free trade principles, he said.

It also erodes the serious nature of WTO rules and adversely affects the ongoing new round of WTO talks, Bo said.

The minister said the sixth WTO Ministerial Conference, to be held in Hong Kong in December, is important for the Doha Development Agenda (DDA) negotiations, which are closely related to new international trade rules.

"We hope the new free trade rules are more transparent, more just and in good faith," he said. "Once an agreement is reached, all should honour their commitments, otherwise it is pointless negotiating new rules."

By no means should they enforce rules that are beneficial to them, and ignore those that are not good for them, the minister said.

Also yesterday, former European Commission President Romano Prodi urged European Union members to adopt a "commitment strategy" instead of a "containment strategy" in dealing with textile trade disputes.

"The growth rate in Chinese exports seems to be out of control in some sectors and accompanied by political fears and tensions in many European countries and the United States, especially because of the new textile trade regime," Prodi said.

However, he stressed, this phenomenon must be managed with wisdom and intelligence so as not to disrupt a balance that had been preserved up to now.

"The European case must be handled with special care because the economic realities are different country by country," Prodi said.

Prodi was speaking at a symposium on the future of EU-China strategic relations, which was organized by the Chinese Academy of Social Sciences and the Foreign Policy Centre of Great Britain in Beijing yesterday.

The interdependence between the EU and China has been growing impressively not only in terms of goods exchanged, but also in investments and people as well, he said.

"If we look at this picture in a somehow static way, the level of competition of China with the EU and the US may look destined to face tough confrontation and conflict. Our strategy would be in this case a containment strategy," Prodi said and a wrong strategy, he added.

"If we try to interpret the same picture dynamically, we see in the Chinese development an incredible force of economic transformation and a great opportunity for the world as a whole."

This opportunity, Prodi said, would be a major mistake to miss.

"So the right strategy in this case is that of commitment," he said, not building new walls, as containment would imply.

(China Daily 05/19/2005 page1)




Today's Top News
Top China News

Premier assures business leaders of 'reasonable profits'




More aid to help Mideast peace process




US raising tensions over China's currency




Textile barriers 'unfair to China': Bo




Wu urges free trade agreement with Japan




Alleged Al-Zarqawi tape denounces Shiites