Abbas to meet with China's leaders
(Agsencies)
Updated: 2005-05-18 14:26
Palestinian leader Mahmud Abbas is to meet China's top leaders, angling for financial assistance ahead of July elections in which he said radical Islamist movement Hamas would be welcome to participate.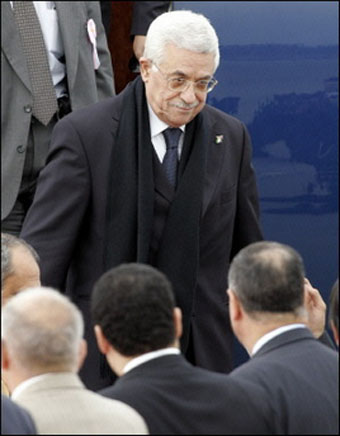 Palestinian leader Mahmud Abbas (C) is scheduled to meet China's top leaders, angling for financial assistance ahead of July elections in which he said radical Islamist movement Hamas would be welcome to participate. [AFP]
Abbas, who is in Beijing for a two-day visit, earlier told reporters he could even contemplate a role for the group in a future Palestinian Cabinet, depending on the support it would get from the voters.
"If they would like to participate in political life, and if they win enough seats in the legislative election, they're welcome to participate, even in the future government," Abbas told reporters in Beijing late Tuesday.
Abbas, on a tour of Asia, was scheduled to meet with State Councilor Tang Jiaxuan, a former foreign minister who is among the Chinese diplomats most intimately involved in the Middle East peace process.
Later Wednesday, he was to have talks with President Hu Jintao and Prime Minister Wen Jiabao.
Abbas had told the state-run Xinhua news agency in an interview prior to his arrival that he hoped China could contribute more to settling the Palestinian-Israeli conflict.
"As a great country with principles and a long history which holds a permanent seat in the UN Security Council, China can play a bigger and more important role in the Mideast peace process," he told Xinhua.
China's wish to play a more important role in Middle Eastern politics mainly is a result of its desire to secure oil for its energy-hungry economy, according to analysts.
"Given China's large interest in oil and resources from the Middle East, they would like to play a more active role in the region," said David Zweig, a China watcher with the Hong Kong University of Science and Technology.
"They'd also like to see stability in the Middle East."
Shortly after his arrival in China, Abbas sought to put an end to uncertainty that had recently emerged on the July election.
An Abbas aide last week raised the idea of postponing the July legislative elections amid fears in the Palestinians' ruling Fatah party that Hamas could capitalize on recent local poll successes.
However, Abbas Tuesday ruled out any change in the timetable.
"It will go on as scheduled. There is no reason to delay the election. It will be on time," he said.
Israel has said a Hamas victory could make it re-think its planned pullout from the Gaza Strip.
Abbas flew in from Japan where he secured a pledge from Tokyo to provide 100 million dollars in aid.
When asked if he hoped for assistance from China as well, he said Tuesday that "China had always fulfilled its promises to the Palestinians."
Meanwhile, ranking members of his delegation were scheduled to meet Chinese Commerce Minister Bo Xilai, according to the Palestinian embassy in Beijing.
At the end of Wednesday's meetings, Abbas was to sign contracts with his Chinese hosts on economic cooperation, the embassy said.
Currently, economic ties mainly take the form of Chinese exports to Palestinian territories, according to Chinese state media.
China established diplomatic relations with the Palestinian Authority in 1988.
Abbas leaves Thursday, and is scheduled to move on to Pakistan and India, according to earlier reports.
Today's Top News
Top World News

Washington raising tensions over China's currency




Fortune for all in new Asian century




China reforms forex trading system




US, EU textile limits on China unfair: Bo




New law to protect online copyright




Wu Yi to meet Koizumi in Japan