Beijing mulls easing firecrackers ban
(Xinhua)
Updated: 2005-05-18 09:58
Beijing municipal authorities are considering allowing firecrackers during the Spring Festival, a major traditional Chinese festival of family reunion, after a 12-year ban in the national capital.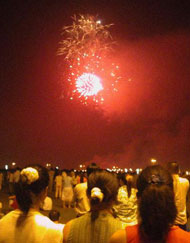 People get together to watch fireworks displayed for celebration. Beijing municipal authorities brews a stop to the 12-year-long ban on firecracker display during the Spring Festival in the city.[baidu]

Beijing Municipal Legal Office has publicized draft regulations on firecrackers safety management at the Beijing municipal government website, www.bjijing.gov.cn, to solicit public opinions from May 16 to the end of this month.

According to draft regulations, lighting firecrackers will be allowed in the city for a 15-day period beginning on the day of the Spring Festival, China's Lunar New, which often falls in January and February.

Apart from these days, firecrackers will be banned in urban areas of the districts of Dongcheng, Xicheng, Chongwen, Xuanwu, Chaoyang, Haidian, Fengtai and Shijingshan, but still are allowed in suburban districts and counties from 8:00 a.m. to 10:00 p.m. all the year around.

The draft regulations say that firecrackers will only be allowed during other festivals and celebrations throughout the year within restricted areas and time with the approval of the municipal government.

Booms of firecrackers during the Spring Festival mark the passing of the old year, or "guonian" as the Chinese call it. Traditionally, firecrackers are believed to be able to drive away demons, especially on Lunar New Year's Eve. This tradition has been handed down from generation to generation for centuries in China.

For security and environmental protection, several hundreds of Chinese cities had banned fireworks in urban areas since the 1980s,a large number of which have since eliminated the bans under citizen's pressure. Beijing is among the few that still enforce the ban.

Beijing's firecrackers ban was severely questioned during this year's festival period as explosions were frequently heard in the downtown area, even within the second ringroad -- the innermost areas of Beijing's city proper, though posters reading "firecrackers banned" were seen in nearly every street.

Most Beijingers seem quite used to such open defiance which is seen nearly every year since firecrackers were first banned in 1993. "We stepped up publicity weeks before the holiday and it worked to some extent," said Vice Mayor Ji Lin. But still, he admitted some areas were "out of control."

Zhou Jidong, head of the city government legal office, said draft regulations were worked out on the basis of public opinions.Most of local residents say that booms of firecrackers add more festive atmosphere to the Spring Festival.

"Stipulations of the draft regulation mean that Beijing residents are free to light firecrackers for at least two weeks during the festival period," Zhou said on Tuesday when reached by Xinhua on the phone.

Many local residents are happy to learn of the easing of the firecrackers ban.

Zhou Jiawang, who lives in Xuanwu District, said: "I love to hear the explosions on the eve of the Lunar New Year and it's great joy to step on thick piles of red firecracker scraps to welcome the new year."

Zhou said that because of the ban, he had to drive to the outskirts of Beijing to light firecrackers in the past several years. He said, "Without firecrackers, the festival is far less joyous."

Zhou Jidong, the legal official, said that out of safety concern, the city will still outlaw the lighting of firecrackers close to government office buildings, buildings of historical interest and buildings under protection, railway stations, bus stops, the airport, kindergartens, schools, hospitals, care centers for the aged, gas stations, warehouses and some other public facilities.

Those who violate these stipulations will be punished, according to the draft regulations. Institutions can be fined 1,000 to 30,000 yuan (about 3,600 US dollars) each and individuals can be fined 50 to 1,000 yuan (120 US dollars) each.

The draft regulations also have specific stipulations on production, storage, sales and transportation of firecrackers. Those firms which illegally purchase and sell firecrackers will befined between three to 10 times the value of the involved firecrackers.

There are some Beijing residents who do not welcome the easing of the ban. A young lady surnamed Yi complained that "Firecrackersare too noisy and dangerous."

Others hold opposite opinions. One said: "We can't ban everything that is dangerous -- we can't ban cars and buses to avoid traffic accidents, for example."






Today's Top News
Top China News

Washington raising tensions over China's currency




Fortune for all in new Asian century




New law to protect online copyright




Wu Yi to meet Koizumi in Japan




China 'sincere' about ties with Vatican




China not a threat to world energy security