China opposes 4-nation resolution on UNSC
(Xinhua)
Updated: 2005-05-18 09:58
China on Tuesday said the draft resolution circulated by Germany, Japan, Brazil and India on the UN Security Council expansion will be "detrimental" to the process of UN reform.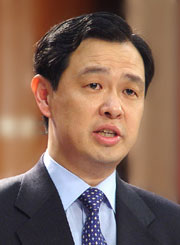 FM spokesman Kong Quan said a hasty decision of UNSC membership is harmful to UN and all its member states. [baidu]

"To take such a move hastily will only intensify contradictions," said Foreign Ministry spokesman Kong Quan, citing that great divergence remains among UN member countries.

Germany, Japan, Brazil and India, known as the G-4, on Monday circulated a draft resolution, proposing to give the four countries permanent seats in the Security Council along with two African countries.

"There is still a very large gap between the positions of many countries and the core content of the draft resolution," Kong told a regular news conference.

He said China hopes all relevant parties can start from the overall and long-term interests of the U.N. and its member countries, follow the stipulations and spirit of the U.N. Charter and carry out extensive and in-depth consultations, so as to push for a common consensus among all countries.

Kong also reiterated China's stance on the UN Security Council reform, saying that China supports the reform of the Security Council.

He called on the reform to be helpful in enhancing the authority and efficiency of the Security Council and to give priority to increasing the representation of developing countries.

He also said the reform should give more opportunities to middle and small-sized countries to participate in the decision-making of the UN Security Council and should adhere to the principle of keeping balance among regions and take into account the representation of different cultures and civilizations.

"Security Council reform is an issue concerning the future of the United Nations and the immediate interests of every country.

Decisions should be made on the basis of extensive discussions and unanimous agreements," the spokesman said.






Today's Top News
Top China News

Washington raising tensions over China's currency




Fortune for all in new Asian century




New law to protect online copyright




Wu Yi to meet Koizumi in Japan




China 'sincere' about ties with Vatican




China not a threat to world energy security