Australian Iraq hostage to be released soon -media
(Agencies)
Updated: 2005-05-18 09:40
An Australian held hostage by Iraqi militants could be released within 24 hours, Australian radio reported on Wednesday, quoting the leader of Australia's Muslims, Sheikh Taj al-Din al-Hilali.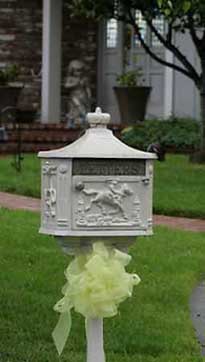 A yellow ribbon is tied around a mailbox outside the home of kidnapping victim Douglas Wood in Alamo, California, May 9, 2005. Wood, 63, an Australian engineer residing in California, was seized by militants in Iraq who threaten to kill him if Australia does not pull out their troops. Australian radio reported on Wednesday that Wood could be released within 24 hours, quoting the leader of Australia's Muslims, Sheikh Taj al-Din al-Hilali.[Reuters]
A journalist for Australia's SBS Arabic radio service, Majida Abboud-Saab, said Sheik al-Hilali, in Iraq to try to free 63-year-old Douglas Wood, had told her he had spoken to a man who said he represented the militants holding the engineer.
"They said that they were willing to release Douglas Wood," Abboud-Saab told Southern Cross Broadcasting on Wednesday.
"They are not placing any conditions on his release. He (al-Hilali) is very convinced and he is very optimistic and he is very happy about the fact that they have agreed to release Douglas."
A spokesman for al-Hilali, Keysar Trad, told Reuters he had not been able to speak with al-Hilali to confirm the report, but the Muslim leader had given medication needed by Wood to a man who said he would deliver it to the militants.
Australia's Foreign Minister Alexander Downer has said that Wood, who is married to an American, may have been kidnapped up to two days before a two-minute video was delivered to news agencies on May 1.
The militants demanded that Australia start withdrawing its troops from Iraq or they would kill Wood.
Australia's conservative government, a staunch U.S. ally that was among the first to join the war on Iraq two years ago, has stood firm on its refusal to give in to the militants.
A new batch of 450 Australian troops is due to arrive in southern Iraq in the coming weeks to provide security and train the Iraqi army. They will take the total number of Australian troops in and around Iraq to about 1,400.
Wood's family have launched a newspaper and television appeal in Iraq and has also set up a Web site (www.thewoodfamily.info).
Wood's brother, Malcolm, has pledged an undisclosed donation to the people of Iraq and has asked the group holding Wood to tell them how they would like the money to be spent. He denied it was a ransom payment.
Today's Top News
Top World News

Washington raising tensions over China's currency




Fortune for all in new Asian century




New law to protect online copyright




Wu Yi to meet Koizumi in Japan




China 'sincere' about ties with Vatican




China not a threat to world energy security