Uzbek authorities deny troops killed civilians
(Agencies)
Updated: 2005-05-18 09:32
Uzbekistan's government said on Tuesday troops had killed "terrorists" not civilians to quell unrest, contradicting witnesses who said they shot hundreds of protesters, including women and children.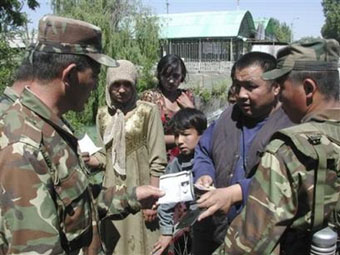 Kyrgyz border guards check documents of Uzbek citizens who want to cross the border into Kyrgyzstan near Korasuv, Tuesday, May 17, 2005. An opposition leader said Tuesday her party had compiled a list of 745 people allegedly killed by government troops in Uzbekistan, the highest estimate so far, and that many were shot in the back of the head. But authorities contradicted the claim, saying the toll was far lower. [AP]
An Uzbek opposition party said it had compiled a list of 745 people killed. Witnesses and a human rights activist in the eastern town of Andizhan have put the death toll at about 500.
The unrest, sparked by the trial of 23 Muslim businessmen and blamed by Karimov on Islamic extremists, was the bloodiest chapter in Uzbekistan's post-Soviet history.
Uzbekistan's prosecutor general said rebels killed 169 people, including three women and two children. It previously said 10 policemen were killed and "many more" rebels.
"Not a single civilian was killed by government forces there," Prosecutor-General Rashid Kadyrov told reporters in the capital Tashkent. "There are absolutely absurd statements that troops opened fire on peaceful demonstrators."
Residents and a local human rights activist say the rebellion was staged by locals protesting against poverty, corruption and Karimov's hard line against Muslims.
Kadyrov accused news organizations of making up casualty numbers, while autocratic President Islam Karimov said the media was trying to portray his Central Asian country as a tyranny.
"There is a broad campaign in the media, especially in the Western media, to be ahead of events ... and to show that Uzbekistan is a tyranny, that in Uzbekistan they shoot innocent people," Karimov told reporters, raising his voice.
"Who would shoot at people who do not have weapons? There are no such people in any government in the world."
Kadyrov branded the people who took part in the rebellion "terrorists" and said almost all of those killed either had guns in their hands or nearby. "Only bandits were killed," he said.
On the streets of Andizhan, an overnight gun battle suggested pockets of resistance remained.
Residents of the leafy town of 300,000 have laid flowers on the parched pools of blood outside School No. 15 on Cholpon Avenue, where witnesses said the massacre took place.
Reports that troops had gunned down hundreds of unarmed protesters prompted U.S. concern about the Central Asian Muslim state, its ally in the war on terror.
State Department spokesman Richard Boucher said Uzbek stability would depend on instituting reforms and the rule of law. He called for international involvement to support reform.
"We don't countenance human rights violations in the interest of stability because we don't think stability can be achieved except through democracy and openness," he said.
U.S. CONCERN
Boucher said on Monday Washington was "deeply disturbed" by the reported shootings.
Karimov told Boucher to heed his own advice.
"He should apply the same principles to himself and his country if you take into account those wars the U.S. government takes part in," he told reporters.
Karimov has given the United States use of an airbase for operations in Afghanistan. A small group of opposition activists staged a protest outside its embassy in Tashkent on Tuesday.
The United States has also said it is worried that Islamic militants were released from prison when rebels freed 23 businessmen and 2,000 other inmates from jail on Friday.
The Uzbek opposition party, the Free Peasants Party, estimate 745 were killed including 203 people it said were shot in Pakhtabad, north of Andizhan. It believed they were people fleeing the massacre in Andizhan.
Witnesses say the first to be killed on Friday were 10 police hostages, pushed ahead of the crowd by rebels who earlier seized a government building. Soldiers later killed some of the wounded with single shots to the head, they said.
"It was a massacre," said a 31-year-old cobbler, one of three witnesses to the slaughter outside the school interviewed by Reuters in Andizhan since Sunday. "This sickening smell of blood, smashed brains, guts, and blood, blood, everywhere. I could not put my feet on a dry spot.
The violence in Andizhan followed protests in the nearby Kyrgyz cities of Osh and Jalal Abad, which led to the overthrow of Kyrgyz President Askar Akayev in March -- the third long-serving leader of an ex-Soviet state to go in 18 months.
Today's Top News
Top World News

Washington raising tensions over China's currency




Fortune for all in new Asian century




New law to protect online copyright




Wu Yi to meet Koizumi in Japan




China 'sincere' about ties with Vatican




China not a threat to world energy security