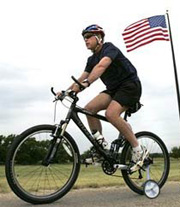 Bush gets $14,000 shotgun, $2,700 bike as gifts
A $14,153 shotgun with accessories, a $2,700 bike and thousands of dollars worth of fishing gear topped the list of gifts received by President Bush last year.
While the president's gift list had a distinctly outdoorsy theme, Vice President Dick Cheney received more artsy presents such as paintings and a statue, according to annual financial disclosure documents released on Friday.
Cheney gave Bush a $595 desk clock for Christmas that is currently telling time in the Oval Office. Bush gave the vice president a $425 floor globe.
In 2004, Bush received gifts that totaled $26,346, many from friends in his home state of Texas, and about four times the $5,934 value of gifts given to Cheney.
The most expensive single gift Bush received was the shotgun with "accessory tools" from Roy Weatherby Jr. of California.
Don Evans, the president's close friend and former commerce secretary, gave him a fishing rod, shirt, three caps and fishing bait valued at $208; a hardcover book "Longhorn" worth $240; and a $149 sweater.
Bush received a total of five fishing rods, with the most expensive priced at $900 with travel case.
Bush, an avid biker, received a $2,700 mountain bicycle that he uses in the Washington area, and helmets, gloves and other equipment worth $532 from John Burke of Wisconsin.
Classical pianist Van Cliburn from Texas gave Bush $650 gold cuff links.
And for his cowboy wardrobe, Bush received a brown pair of $295 cowboy boots from Rocky Carroll of Houston, Texas, and a $400 cowboy hat from Mickey Foster of Austin, Texas.
Cheney received a $1,600 painting, a $700 replica of a statue outside of Cabella's store in Minnesota, and an $800 framed landscape painting.
He also received a $490 sterling silver engraved bowl, a $350 silver apple made by Fornari and Fornari, as well as a $120 Namiki Vanishing Point Black Carbonesque pen.
Family friend Donald Vinson of Wyoming gave Cheney 12 bottles of assorted wines valued at $699.
The president and vice president are required to report gifts from U.S. citizens that cost more than $285. They are not allowed to accept personal gifts from foreigners or foreign governments.
The majority of gifts are not accepted for their personal use, but rather on behalf of the United States and sent to the National Archives.


(Agencies)
一杆价值14,153美元的猎枪及其附件,一辆售价2,700美元的山地车,以及一套价值数千美元的钓鱼装备占据了美国总统布什去年所收礼品单上前几名的位置。
上周五公布的年度财务调查文件显示,布什总统收到的礼物大多与户外活动有关,与之相比,副总统迪克·切尼收到的礼物则更富有艺术气息,如油画和雕塑。
在总统椭圆形办公室的桌上摆着一只价值595美元的时钟,它是去年圣诞节副总统切尼送给布什的礼物。而布什则回赠了一个价值425美元的落地式地球仪。
2004年里,布什一共收到了价值26,346美元的礼物,多数来自他家乡德克萨斯州的朋友。副总统切尼收到了价值5,934美元的礼品,只占到布什的四分之一。
布什收到的最昂贵的礼物是一支猎枪及其"附属部件",由加利福尼亚州的罗伊·小卫斯比赠送。
总统的好友,前商务部长唐·埃文斯送给他一根钓鱼竿、一件衬衣、三顶帽子和鱼饵,总共价值208美元;还有一本价值240美元的精装书《长角牛》和一件149美元的毛线衣。
布什总共收到了五副钓鱼竿,其中最贵的一副还配备了旅行袋,价值900美元。
布什爱好山地车。威斯康辛州的约翰·伯克送给他一辆价值2700美元的山地车,还有总价值为532美元的头盔、手套以及其他装备。布什在华盛顿骑的正是这辆车。
来自德克萨斯州的古典钢琴演奏家范·克莱邦送给布什价值650美元的金链扣。
还有牛仔服饰呢。得克萨斯州休斯敦的罗基·卡罗尔送给布什一双棕色牛仔靴,价值295美元。得克萨斯州奥斯汀的米基·福斯特送给他一顶价值400美元的牛仔帽。
切尼收到了一幅价值1600美元的油画;一座明尼苏达州卡贝拉商店外面雕像的复制品,价值700美元;以及一幅800美元的装裱风景画。
切尼还收到一个价值490美元的纯银雕花碗;一个由Fornari & Fornari制作的镀银苹果,价值350美元;还有一只120美元的"并木"牌黑色碳素钢笔。
切尼家的朋友、怀俄明州的唐纳德·文森送给切尼12瓶酒,价值699美元。
美国总统和副总统必须公布他们收到的来自美国公民的价值超过285美元的礼物。他们不能收取外国人或是外国政府所赠送的私人礼物。
而且这些礼物大多数都不供他们私人使用,而是他们代表国家接受的,被送到国家档案馆保存。

(中国日报网站译)