North and South Korea talks break, no progress
(Agencies)
Updated: 2005-05-18 09:17
Rare talks between South and North Korea broke for a day on Wednesday without progress on bringing Pyongyang back to international negotiations to end its nuclear ambitions, a top South Korean official said.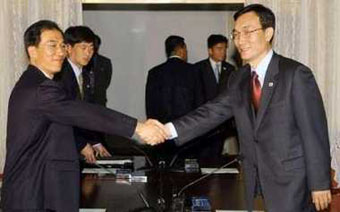 South Korean Vice Unification Minister Rhee Bong-jo (R) shakes hands with North Korea's Kim Man-gil on the second day of talks in the North Korean city of Kaesong May 17, 2005.[Reuters]


South Korea pressed the North for two days for a pledge to return to six-country talks, but failed to win its commitment, Vice Unification Minister Rhee Bong-jo was quoted as saying in a pool report from North Korea, where the talks were held.

"North Korean nuclear programs are unacceptable," Rhee was quoted as saying.

"We made it clear that unless the principle of a nuclear-free Korean peninsula is met, reconciliation and cooperation between the South and North is impossible," he said.

South Korean officials would return home for a day on Wednesday and the bilateral talks -- the first high-level contact in 10 months -- would resume on Thursday, Rhee said, adding the talks had not broken down.

Tensions have mounted over North Korea's nuclear weapons plans in recent weeks after some U.S. officials have said North Korea may be preparing for a nuclear test.

Seoul hopes to use the bilateral talks to press the North back to six-country talks on its plans, nearly a year after the last international negotiations ended with no substantive progress on ending Pyongyang's nuclear programs in return for aid and security guarantees.

North Korea is believed to have one or two nuclear weapons and possibly more than eight. It recently declared it had extracted spent fuel from a nuclear reactor, a move that could yield more material for weapons.

Rhee told the North on Monday that Seoul would prepare a new and serious offer if Pyongyang returned to the six-party talks, which also involve the United States, Japan, China and Russia.

The North refused to include mention of the nuclear crisis in a joint statement for the bilateral talks, a key aim of the South in the bilateral talks, earlier pool reports from the talks quoted unidentified officials as saying.




Today's Top News
Top World News

Washington raising tensions over China's currency




Fortune for all in new Asian century




New law to protect online copyright




Wu Yi to meet Koizumi in Japan




China 'sincere' about ties with Vatican




China not a threat to world energy security