China will act on yuan, but on its terms
(Agencies)
Updated: 2005-05-17 18:41
BEIJING - China will push forward steadily with reform of the yuan, Vice Premier Zeng Peiyan said on Tuesday, a day after Premier Wen Jiabao insisted Beijing would not bow to foreign pressure for a rise in the currency.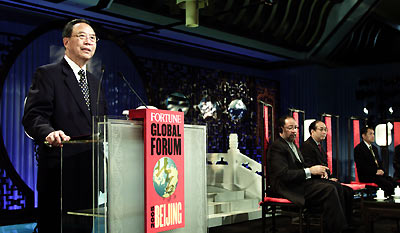 Vice Premier Zeng Peiyan[L] delivers a speech at the Fortune forum in Beijing May 17, 2005. [newsphoto]

Zeng also vowed to speed up reform of China's state-owned enterprises and financial institutions. Market-orientated changes to China's system of setting interest rates were also on the agenda, he said in a speech to a business conference.

"We will steadily push forward reform of the renminbi exchange rate formation mechanism," Zeng said.

The yuan, also known as the renminbi, has been pegged near 8.28 per dollar since the 1997-98 Asian financial crisis.

But China's big balance-of-payments surplus, and in particular its growing trade surplus with the United States, is increasing pressure on Beijing to loosen the peg and let the currency rise.

Like Zeng, China's central bank governor reaffirmed the authorities' commitment to eventually unshackle the yuan.

"I believe a good exchange rate regime and some kind of reforms in that regard will help strengthen the confidence of both domestic and international investors," Zhou Xiaochuan, the governor of the People's Bank of China, told the forum.

"If we move in this direction, it should be a good thing for the market," said Zhou. But he gave no hint as to the timing of any shift, which is the subject of fevered speculation on world markets.

Washington blames what it sees as an unfairly cheap yuan for a surge in Chinese textile imports since a decades-old system of quotas on developing countries' clothing exports ended on Jan. 1.

The Bush administration said last week it would reimpose curbs on imports of Chinese trousers, shirts and underwear, a move denounced by Beijing as flouting world trade rules.

DOING IT OUR WAY

Wen told Washington on Monday not to politicise the textiles dispute, saying that doing so could throw up obstacles to China's long-standing plan to let the yuan trade more freely.

"Reform of the renminbi's exchange rate is a matter of China's own sovereignty," the official Xinhua news agency quoted Wen as saying. "Any pressure or media play-up, or politicising an economic matter, will not help solve problems," he told a visiting U.S. business delegation.

The deputy head of a top government think tank took up the theme on Tuesday, saying China would set its own agenda.

"When to reform China's foreign exchange mechanism, and the level of the renminbi, will depend entirely on China's own needs," said Li Jiange, an economist with the rank of vice minister in the State Council's Development Research Center.

Chinese Vice Commerce Minister Liao Xiaoqi summoned David Sedney, the deputy head of the U.S. embassy in China, to express China's "strong displeasure and firm opposition" to the new textile curbs, the People's Daily newspaper reported on Tuesday.

The president of the U.S. Chamber of Commerce, Tom Donohue, acknowledged that letting the yuan float would not solve all bilateral trade problems such as the surge in textiles and rows over counterfeit goods.

But he said China needed to make a move toward flexibility in order to placate Congress. Momentum is building behind a bill in the Senate to impose a 27.5 percent tax on Chinese imports unless Beijing frees up the yuan.

"I am not an advocate of immediate movement to total floating of the currency. I think it ought to happen, and it ought to start now, but I think it should be evolutionary, not revolutionary," Donohue, who met Wen on Monday, told Reuters.