Wu Yi to meet Koizumi in Japan
By Sun Shangwu (China Daily)
Updated: 2005-05-17 22:53
Vice-Premier Wu Yi will meet Japanese Prime Minister Junichiro Koizumi during her week-long visit to Japan which began yesterday, said Foreign Ministry spokesman Kong Quan.
Wu would also meet Japanese Minister of Economy, Trade and Industry Shoichi Nakagawa and attend the China Day held in Aichi Expo 2005.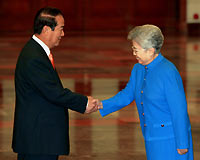 Vice Premier Wu Yi(R) shakes hands with visiting PFP Chairman James Soong at the Great Hall of People in Beijing May 12, 2005. [newsphoto]
At the regular news briefing, Kong declined to specify topics to be discussed during Wu's meetings, but analysts said the issue of war history and the joint development of natural gas fields in the disputed parts of the East China Sea could be touched upon.
Relations between China and Japan have worsened following a series of disputes, including Koizumi's annual visit to the Yasukuni Shrine, which honours 14 Class-A World War II criminals.
Koizumi defied public opinion on Monday by saying that he will continue to make his pilgrimage to the shrine.
"The visit to Yasukuni Shrine is not just a simple question of holding memorial service for the dead, but a question concerning how to correctly treat history," said Kong, noting that the hands of the 14 Class-A war criminals were tarnished with the "blood of Chinese and Asian people."
"We hope they (Japanese leaders) can win trust from Chinese and the whole Asian people, as well as international community with their practical actions," said Kong.
Religious freedom
Kong said yesterday that Chinese Government protects religious freedom of its citizens according to the law.
He made the remarks when commenting on the annual report released by the US Commission on International Religious Freedom, which rebuked the religious situation of some developing countries, including China.
Kong urged the commission to stop interfering in internal affairs of other countries by using religion as a pretext.
Uzbek riot
Turning to the bloody riots in Andizhan, Uzbekistan, Kong said China is paying close attention to the development.
"China is delighted to see that the situation in Andizhan has been stabilized and social order and people's lives are returning to normal," said Kong.
The Chinese firmly opposes terrorism, splittism and extremism in any form and will continue to support efforts taken by Uzbekistan and other countries in the region to safeguard national and regional security and stability, he added.
Uzbek Government said on Friday the situation in the eastern town of Andizhan was under control after days of clashes.
Six-Party Talks
Kong yesterday urged the Democratic People's Republic of Korea (DPRK) and the United States to "further show their goodwill" and give more "positive signals" to create conditions for the resumptions of the Six-Party Talks on nuclear issues on the Korean Peninsula.
(China Daily 05/18/2005 page1)
Today's Top News
Top China News

Fortune for all in Asia's century




EU to launch consultations on textile imports




New law to protect online copyright




Wu Yi to meet Koizumi in Japan




World Expo finds marketing partners




China will act on yuan, but on its terms