EU to launch consultations on textile imports
(Xinhua)
Updated: 2005-05-17 21:08
The European Union (EU) Trade Commissioner Peter Mandelson said in Beijing on Tuesday that the EU would launch formal consultations with China for T-shirts and flax yarn imports.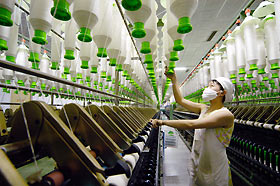 A female worker adjusts the wheels in a textile mill in Huaibei, East China's Anhui Province May 17, 2005. The textile products made here will be exported the US. [newsphoto]

These are two of the nine categories of textile imports from China currently under investigation, which was launched on April 29 by the EU's executive body, the European Commission.

"In view of the seriousness of market disruption in these categories, formal consultations need to begin immediately," Mandelson told a press conference.

"Only if China does not take effective action will the Commission propose temporary limits on the growth of Chinese exports in the categories concerned in 2005," he added.

Mandelson's proposal still needs the nod from the European Commission and EU's textile committee, comprising of 25 EU member states. Manelson believed this process could be completed before the end of May.

Mandelson said the EU could cap the rise on imports from China within 15 days of the start of formal consultations if there is no bilateral satisfactory solution.

However, he said he remained optimistic to get an immediate reaction from the Chinese authorities.

In the first quarter of this year, imports of Chinese T-shirts were up 187 percent and of flax yarn by 56 percent compared to the same period last year, according to a statement issued by the Commission.

The investigation had shown "a dramatic deterioration of production, profitability and employment in the (European) Community industry in these categories," it added.

Under the rules of the World Trade Organization, all quantitative quotes on textile products should be lifted since January 1, 2005.




Today's Top News
Top China News

Hu: A developing China will benefit global businesses




EU to launch consultations on textile imports




New law to protect online copyright




Wu Yi to meet Koizumi in Japan




World Expo finds marketing partners




China will act on yuan, but on its terms