Seoul presses Pyongyang on nuclear talks again
(Agencies)
Updated: 2005-05-17 16:23
South Korea pressed North Korea on Tuesday to return to multilateral talks on Pyongyang's nuclear plans but there was no sign at their rare high-level meeting that the North would drop its resistance to discussions on the crisis.
South Korea's top delegate to the bilateral talks -- the first in 10 months -- promised on Monday Seoul would offer a new and serious proposal if Pyongyang returned to six-country talks on dismantling its nuclear programs.
Pool reports from the northern city of Kaesong where the talks were being held did not say whether there had been any progress nor whether the North had responded to the idea.
"On the nuclear issue, we urged again, as we did yesterday, early participation at the six-party talks," pool reports quoted Vice Unification Minister Rhee Bong-jo as saying after the morning talks on the second day. He did not elaborate.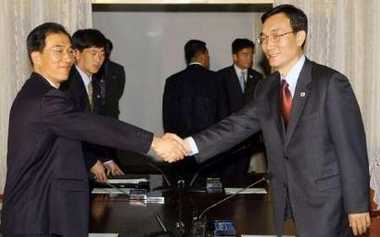 South Korean Vice Unification Minister Rhee Bong-jo (R) shakes hands with North Korea's Kim Man-gil on the second day of talks in the North Korean city of Kaesong May 17, 2005.[Reuters]

"We had some additional exchanges of views on the nuclear problem, and the dates for South-North dialogue and on family reunions, but we'll have to continue discussions," Rhee added.

There is added urgency to efforts to restart stalled six-party talks because some U.S. officials said they were concerned Pyongyang might be planning a nuclear test.

South Korea has said bilateral exchanges offer a chance to improve the prospects for the multilateral negotiations -- also involving the United States, China, Japan and Russia -- after nearly a year of deadlock.

South Korea told the North on Monday it was prepared to give it an incentive to return to the talks.

Rhee has declined to elaborate on what the proposal would include, but said earlier on Tuesday in Seoul the North's pledge to return to the talks would be a key requirement for normalising brittle relations between the two.

North Korean delegates did not respond to the comments on Monday. It was not clear how they responded on the second day.

Pyongyang abruptly agreed at the weekend to meet for the bilateral talks, after breaking off all dialogue last July in anger at Seoul's secret airlift of 468 North Korean refugees from Vietnam and its refusal to let a delegation attend a memorial in the North Korean capital.

Three rounds of the six-party talks have made no progress. A fourth round originally planned for September never materialized after Pyongyang said Washington must first drop what it called a hostile policy.

North Korea's official Rodong Sinmun newspaper maintained a verbal assault on the United States on Tuesday.

"Up till now the Bush administration regarded the six-party talks as a leverage to gain time for the completion of preparations for the second Korean War," it said in a commentary carried by the North's official KCNA news agency.

"Our nuclear weapons are a reliable shield to defend the country's sovereignty and peace and a guarantee for victory," the newspaper said.

North Korea asked for food aid and fertilizer on the first day of bilateral talks, and Seoul proposed that the issue be discussed further at ministerial level in June.




Today's Top News
Top World News

Hu: A developing China will benefit global businesses




Pressure on RMB will not help -- Wen




Time Warner in talks for China TV tie-ups




WHA rejects Taiwan-related proposal




Chiang: Momentum key to cross-Straits ties




Jilin in running for nuclear power plant