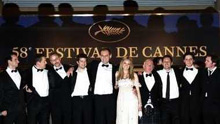 Shadows from the cast are projected on the Palme d'Or symbol after the screening of French director Christian Carion's film 'Joyeux Noel' which is screened out of competition at the 58th Cannes Film Festival May 16, 2005. (REUTERS/John Schults)
Film critics were left cold by early showings at the Cannes Film Festival this year, but things finally warmed up with the return of tried and tested veterans at the world's top cinema showcase.
Informal gradings by writers and commentators, which are not always a reliable guide to what jurors think, reveal a less-than-impressive lineup by the end of the first weekend.
In fact, the festival has been most memorable so far for the galaxy of stars and media frenzy surrounding the premiere of George Lucas's final "Star Wars" installment on Sunday, even though it was showing out of competition.
Among early front-runners in competition for the coveted Palme d'Or is Michael Haneke's "Cache" ("Hidden"), putting a French cast led by Juliette Binoche and Daniel Auteuil in the spotlight.
Its exploration of national and personal guilt and hidden secrets struck a chord with critics, who welcomed the Austrian director's refusal to provide concrete answers to the difficult questions he poses.
Out of a maximum of four points, "Cache" won 3.3 in a snap poll of commentators in the Screen International magazine.
Variety magazine's Deborah Young called it "one of Haneke's most watchable and pungent works."
As with many films at Cannes, personal tales take on a wider significance, in this case France's difficult colonial past with Algeria, and, some say, beyond.
"The issue becomes one of responsibility: not just for France's responsibility toward Algeria, but, more topically, of Europe and America's responsibilities toward Iraq and the world in general," Young wrote.
Film critic and author Mark Cousins agreed that "Cache" was an early favorite, alongside Canadian David Cronenberg's "A History of Violence."
"I think for me the frontrunners would probably be 'Cache' and the Cronenberg film," he told Reuters.
(yahoo)