Forex trade expansion not mean to revalue yuan
(Agencies)
Updated: 2005-05-17 15:17
China's launch of new foreign currency pairs for onshore trade will help deepen its foreign exchange market but it does not indicate an imminent yuan revaluation, officials and analysts say.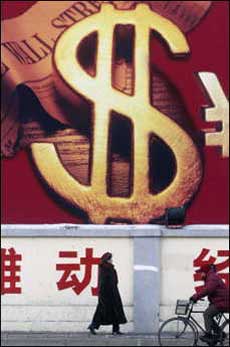 A woman walks past a billboard displaying the symbols of various currencies in this undated file photo. China's launch of new foreign currency pairs for onshore trade does not indicate an imminent yuan revaluation. [AFP]

"Including more currencies in trading is clearly one preparation for China to liberalize its currency regime but the move itself does not mean that it's directly and immediately related to China's plans," said Dong Tao, chief economist at Credit Suisse First Boston.

"The timing (of the new pairs) itself may not necessarily be that relevant."

For its part, China's central bank has repeatedly said it will not revalue the yuan, which is pegged at about 8.28 to the dollar, when it expands foreign exchange trading on Wednesday.

Late Monday Chinese Premier Wen Jiabao reiterated the nation's position.

"The renminbi's foreign exchange rate reform is the sovereignty of China," Wen said in remarks carried by the official Xinhua news agency.

"We respect the order of the market economy but do not succumb to outside pressure. Any pressure or speculation or politicizing economic issues is not helpful to resolving the problem," Wen added.

China's foreign-exchange infrastructure is underdeveloped for an economy its size, with dealings limited to a handful of domestic banks that trade in four pairs strictly for current account purposes only.

Four yuan pairs are now traded in China -- against the US dollar, Japanese yen, Hong Kong dollar and the euro.

The new pairs will be the US dollar against the Hong Kong dollar, the yen, the British pound, the Swiss franc, the Australian dollar, the Canadian dollar and the euro, plus the euro against the yen.

Shanghai's China Foreign Exchange Trade System (CFETS) has also brought in market makers to help deepen and expand trade.

These include seven major foreign banks -- Deutsche Bank, HSBC, ABN Amro, Royal Bank of Scotland, Citibank, Bank of Montreal and ING -- as well as two domestic institutions, Bank of China and CITIC Industrial Bank.

"Allowing market makers besides the central bank, and increasing the number of tradeable currency pairs, will give market participants, the private sector, more of a role in China's forex market, laying the groundwork for an eventual move to a more flexible exchange rate," said Rob Subbaraman, economist with Lehman Brothers in Tokyo.

While a revaluation is unlikely to come this week, CFETS has indicated that the launch of the new trading pairs is part of a broader opening of the Chinese currency market and brings the country more in line with international markets.

The changes would help the development of yuan-based derivative products, which would also assist local banks in hedging against exchange-rate risks.

With speculation that a yuan revaluation will soon occur global foreign exchange markets have remained on edge, as seen by confused reports last week claiming that China would revalue the yuan by 1.26 percent within a month and 6.03 percent over a year.

The People's Daily, which first carried the report, removed the story after it was picked up by foreign news services, rattling currency markets. It blamed the error on a poor translation from Chinese into English.

Earlier, on the last trading day ahead of China's week-long May 1 holiday, a glitch on the China foreign exchange trading system had the yuan quoted 60 pips higher against the dollar outside of its narrow 0.3-percent trading band.

Markets recovered after the errors were clarified but in both instances the yen and major Asian currencies appreciated against the US dollar -- indicating that the US unit may face general weakness should the yuan be revalued.

China has been under increasingly heavy pressure from the United States and Europe to revalue its currency, claiming that mainland exports get a massive windfall from an artificially weak yuan.