Hu: A developing China will benefit global businesses
By Hu Xiao (China Daily)
Updated: 2005-05-16 23:26
President Hu Jintao yesterday pledged to the world China will undertake a set of reforms to become a more open, prospering market.
Addressing a who's who of multinational CEOs, government leaders, and innovative business thinkers, Hu said they will have a win-win result through closer economic and trade ties with the nation.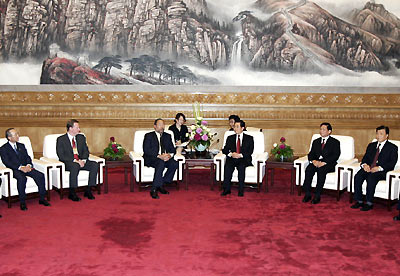 President Hu Jintao meets with some of the FORTURN global forum attendants at the Great Hall of the People yesterday in Beijing. [Xinhua]

"China will revamp foreign economic management, step up protection of intellectual property rights and work harder to help foreign investors, and create an even better environment for trade and economic co-operation between China and the rest of the world," Hu said during a 15-minute key note speech to mark the opening of the 2005 FORTUNE Global Forum.

The forum, themed "China and the New Asian Century", is regarded as a flagship event in global business circles. It has brought together about 850 business tycoons and government officials -- a record high in the forum's history.

Hu told delegates that with surging economic globalization, China and Asia are quickly becoming a new growth engine for the world while the global boom is also generating more important opportunities for China and Asia.

The president sketched a rosy picture for China's development in the following 15 years, saying that China will quadruple its year 2000 GDP to approximately US$4,000 billion with a per capita level of some US$3,000 in 2020.

"To realize the goal, we must uphold the scientific approach in achieving economic and social development of the country," he said.

"We must put the people first, making the fundamental interests of the broadest masses of people as our point of departure, and endeavour to satisfy their growing material and cultural needs to pursue the comprehensive development," he added.

He said the country will continue to open its market, find new ways of using foreign capital, and improve on legislations and regulations for encouraging and protecting foreign investors.

"All of you are important corporate leaders participating and promoting international economic activities. Many of you and the companies you represent have been vigorously involved for years in pushing economic and technological co-operation with China, and have made significant contribution to China's sustained economic growth and technological upgrading in certain industries," said Hu, adding that the Chinese looks forward to continued expansion of their investment in China.

"As China becomes more developed, its co-operation with other countries and their corporations of various types is bound to increase in scale," Hu said.

The president promised the country will stick to the direction of reform for a socialist market economy and participate more broadly in international economic and technological co-operation, and competition with "wider and highten dimensions," said the president.

Before yesterday's ceremony, Hu also met board members of AOL Time Warner Inc., a group of world-known international entrepreneurs and representatives from business communities of the mainland, Hong Kong and Maocao special administrative regions and Taiwan.

Richard D. Parsons, chairman of the board and CEO of Time Warner Inc, told Hu that the presence of the delegates from the FORTUNE Global Top 500 has improved the vibrancy of China's economy and its key role in global economic development, saying these leading enterprises are expecting to explore more ways to enhance co-operations with China.

The participants are expected to hold extensive discussions today and tomorrow on such topics as understanding China's capital markets, the global impact of the falling US dollar, perspectives on doing business in Asia and opportunities and challenges for Chinese companies.

This is the third Fortune Global Forum to be held in China, following the 1999 session in Shanghai and 2001 in Hong Kong.




Today's Top News
Top China News

Hu: A developing China will benefit global businesses




Pressure on RMB will not help -- Wen




WHA rejects Taiwan-related proposal




US to help China, India improve energy use




Chiang: Momentum key to cross-Straits ties




Jilin in running for nuclear power plant