Jilin in running for nuclear power plant
By Huo Yongzhe & Guo Jian'er (China Daily)
Updated: 2005-05-16 22:22
Northeast China's Jilin Province could win the race to develop China's first nuclear power plant in a non-coastal region.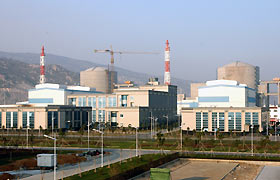 A file photo shows the construction site of the Tianwan nuclear power plant in east Jiangsu Province, January 11, 2005. [newsphoto/file]

A new nuclear power plant has already been given the go-ahead by the National Development and Reform Commission (NDRC), according to Li Jinxiu, deputy director of Jilin Province's economic and trade commission.

"And preparatory work has been taking place," said Li in a recent interview with China Daily.

The plant, with a 5 million kilowatt capacity, will be based in Baishan, a city 370 kilometres from Changchun, the provincial capital.

Power generated by the plant will not only supply the local market in Jilin, but also be sent to the regional grid for use by other provinces, said Li.

From a long-term point of view, China will rely more on energy sources like nuclear power, said Xu Kuangdi, president of the China Academy of Engineering.

He said that China would develop dozens of nuclear plants over the coming 15 years.

The plan demonstrates the country's determination to develop more nuclear power to help cope with the energy demands.

Other areas that could also become home to China's new nuclear power plants include provinces in central and western China, said Zhou Dadi, director of the NDRC's Energy Research Institute. He cited Hunan Province in Central China and Sichuan Province in the Southwest.

China's power supply is still dominated by coal, which accounts for about 65 per cent of total energy consumption, while nuclear power is still marginal, accounting for less than 2 per cent of the total.

China has nine working nuclear power plants, four of which are in Guangdong Province and five in Qinshan of Zhejiang Province for a total generation capacity of 7 million kilowatts.

China is currently constructing a nuclear power plant in Lianyungang of East China's Jiangsu Province. The plant, with a capacity of 2 million kilowatts, is expected to come online in 2006, according to Ye Qizhen, chief designer of Nuclear Power Qinshan Joint Venture Company Ltd.

Meanwhile, Paris-based Areva, the world's biggest reactor builder, Britain's Westinghouse Electric Company and Russia's AtomStroyExport are competing to win a US$8-billion contract to build four reactors, two of which are set for Zhejiang Province and the others for Guangdong Province.

Ye said that related authorities were examining the bids and would decide the winner by the end of the year.




Today's Top News
Top China News

President: China targets US$4 trillion GDP by 2020




China AIDS vaccine begins human tests




Premier Wen: China won't yield on yuan




Vice Premier heads to Japan to repair ties




Astronauts in zero-gravity tests for mission




China, India to share world leadership-Patten