China, India to share world leadership-Patten
(Agencies)
Updated: 2005-05-16 19:51
SINGAPORE - China and India's economic emergence will eventually lift them to a world leadership role alongside the United States, former Hong Kong governor and EU commissioner Chris Patten said.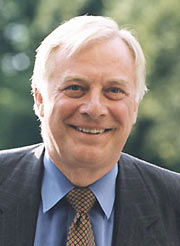 An undated file photo shows former HK governer and EU commissioner Chris Patten.

In a keynote speech at a Singapore regional trade show on Monday, Patten also said the United States and European Union had no grounds to complain about the surge in Chinese textile exports this year that has raised concerns of a trade war.

"What we are witnessing is the re-emergence of China and India as global heavyweights," said Patten, the British governor of Hong Kong from 1992 until the territory's handover to China in 1997.

"Now we are used to living in a world which has been shaped and led by the trans-Atlantic community -- by America principally, but also Europe -- and I just think we should sometimes consider how much longer that is going to be true."

Apart from being a major manufacturer, China was also rapidly becoming an important consumer market for the rest of the world, which will only heighten the importance of Beijing on the global stage, Patten said.

"China has become the workshop of the world ... it's also a big new market for what the rest of the world produces," Patten said in his speech to open the Tax Free World Association Asia Pacific Conference.

"Within a decade, China will almost certainly become the world's largest exporter and the world's largest importer."

Turning to the simmering textile dispute, Patten said the US and EU had no reason to complain about the surge in Chinese textile exports, an expected result of scrapping the 31-year-old global quota system in January.

"It does seem to me that America and Europe have nothing to grumble about," Patten said. "What's happened in the textile area has been predicted for years ... it was certainly inevitable, given the scrapping of quotas in the beginning of the year.

"And it's not America or Europeans who have been most affected ... it's actually other Asian producers and Mexico."

The United States announced on Friday it would reimpose quotas on three categories of Chinese textiles -- cotton knit shirts and blouses, cotton trousers, and cotton and man-made fibre underwear.

The action comes just six weeks after the US government launched a probe into the nine main categories of Chinese textile goods, which could lead to a more comprehensive imposition of quotas.

The US investigation has coincided with a parallel probe by the European Union into nine categories of Chinese textile imports which may lead to similar restrictions being enforced.

China has reacted furiously to the actions by the United States and European Union, warning the reimposition of quotas was a threat to the world's multilateral trading system.

According to the US Commerce Department, Chinese imports of underwear have gone up 366 percent since January 1, cotton-knit shirts have increased 1,350 percent and cotton trousers by more than 1,500 percent.




Today's Top News
Top China News

President: China targets US$4 trillion GDP by 2020




Pressure on RMB will not help--Wen




China AIDS vaccine begins human tests




Vice Premier heads to Japan to repair ties




Jilin in running for nuclear power plant




Astronauts in zero-gravity tests for mission