Vice Premier heads to Japan to repair ties
(Agencies)
Updated: 2005-05-16 19:01
BEIJING - China will send a veteran bureaucrat known as a shrewd fixer to Japan on Tuesday in a bid to improve strained relations and to keep trade powering along between the Asian economic giants.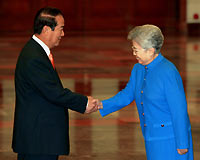 Vice Premier Wu Yi(R) shakes hands with visiting PFP Chairman James Soong at the Great Hall of People in Beijing May 12, 2005. [newsphoto]

Vice Premier Wu Yi, the most senior Chinese official to visit Japan since 2003, has handled crises ranging from foreign trade to public health. But she faces tough challenges on her May 17-24 trip.

Diplomatic relations are at lowest in years over long-running disputes including anger in China at Japanese Prime Minister Junichiro Koizumi's annual pilgrimage to Tokyo's Yasukuni Shrine, where convicted war criminals are honored along with Japan's approximately 2.5 million war dead.

In comments that could inflame anti-Japanese sentiment in Beijing, Koizumi told a parliamentary panel on Monday he saw nothing wrong with paying respects at the Shinto war shrine.

Another source of tension has been Japan's approval of school textbooks which critics say whitewash Japan's history of aggression in Asia. The texts sparked nationwide protests last month, including attacks on Japanese businesses and missions.

But trade between the two countries hit nearly $170 billion last year, when Japan's trade with China and Hong Kong exceeded its trade with the United States -- Japan's biggest trading partner for decades -- for the first time.

China's rapid economic growth -- 9.5 percent in 2004 -- has created huge demand for imported goods, which in turn has helped to fuel the export growth now sustaining Japan's recovery.

Underlining those close trade links, Japanese Foreign Minister Nobutaka Machimura said on Saturday Japan and China would hold talks on development of natural gas fields in a disputed part of the East China Sea in China on May 30-31.

'A FIXER'

If things go well on Wu's trip, it could lay the groundwork for a visit to Japan later this year by Premier Wen Jiabao, one analyst said.

"She's a fixer. There's no doubt about it," said Wenran Jiang, a professor of the University of Alberta.

"I think Wu Yi is paving the way for Wen Jiabao's visit ... There are certain bottom lines China wants to set, and I think Wu Yi's trip probably will set those terms."

Wu, who has served as trade minister and stepped in as health minister after China's initial cover-up of SARS, will attend the Aichi Expo in central Japan -- an event Koizumi invited Wen to attend when the two were in Laos for an Asian summit in November.

Wen said he hoped the right environment could be established for an exchange of leader visits. The expo runs until September.

Wu may also meet Koizumi.

But Chinese academic Zhu Feng sees the problems dogging Sino-Japanese relations, hinging on the Yasukuni visits, as too big to be surmounted any time soon.

"Both sides will reiterate their good intentions and strong will to develop bilateral relations, but I don't see a quick breakthrough soon,"said Zhu, a professor of international relations at Peking University.

"Wu Yi's visit will signal a lot on the mutual intent to keep the trading relationship stable rather than let the increasing conflict rock the boat," he said.




Today's Top News
Top China News

Hu: China, Asia becoming new growth engine for world




China AIDS vaccine begins human tests




Premier Wen: China won't yield on yuan




Astronauts in zero-gravity tests for mission




China, India to share world leadership-Patten




Vice Premier heads to Japan to repair ties