Pyongyang, Seoul resume talks after long gap
(Agencies)
Updated: 2005-05-16 15:58
North Korea held senior level talks with South Korea for the first time in nearly a year as cautious officials hoped the move could prompt a return to six-party talks on the nuclear standoff.
North Korea called for the inter-Korean dialogue over the weekend, breaking a 10-month freeze in relations with South Korea, while at the same time ratchetting up its propaganda offensive on the United States.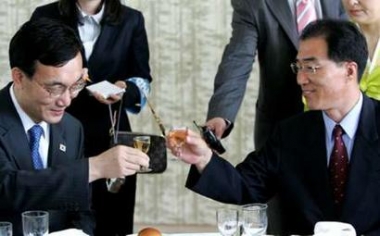 South Korea's Vice Unification Minister Rhee Bong-jo (L) toasts with North Korea's head of delegation Kim Man-gil at a luncheon during talks in the North Korean city of Kaesong May 16, 2005. [Reuters]

US and South Korea officials were encouraged by the move, but cautioned North Korea has a history of using improved ties with South Korea as a ploy to strengthen its bargaining position by driving a wedge between Seoul and Washington.

Traditionally North Korea refuses to discuss the nuclear standoff at inter-Korean talks, saying the matter is between Pyongyang and Washington.

However, North Korea has asked for 500,000 tonnes of urgently needed fertilizer from South Korea and that may induce them to listen with care to South Korea's demand for new six-party talks.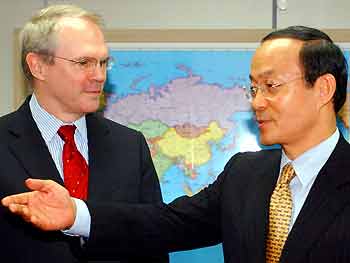 U.S. Assistant Secretary of State for East Asian and Pacific Affairs Christopher Hill (L) is greeted by Song Min-soon, South Korea's deputy foreign minister and a chief South Korean negotiator on the nuclear dispute, during their meeting at the Foreign Ministry in Seoul May 16, 2005. South Korean FM Ban Ki-moon and Hill expressed hope the North-South talks in the city of Kaesong in North Korea would provide an opportunity to tell Pyongyang it was in its interest to resume nuclear dialogue -- also stalled for nearly a year. [Reuters]

Christopher Hill, the US assistant secretary of state for East Asian and Pacific Affairs, was cautious about hopes for a major breakthrough from Kaesong, the town just over the border in North Korea where two days of talks began earlier Monday.

"Of course, if it can help the six-party process, it will be very good. But we just don't know," Hill said at the Foreign Ministry where he held separate talks with his South Korean counterpart, Deputy Foreign Minister Song Min-Soon, and Foreign Minister Ban Ki-Moon.

Later Hill, who leaves Monday after a day of official talks, met with Chang Dong-Young, South Korea's Unification Minister who is in charge of handling ties with North Korea.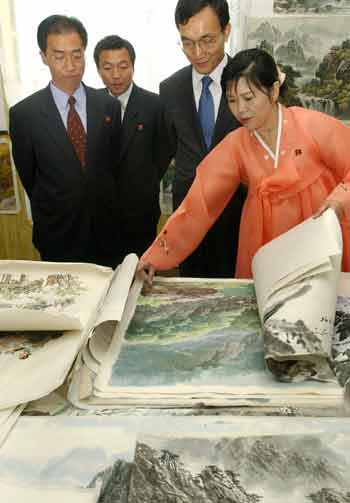 South Korea's Vice Unification Minister Rhee Bong-jo (2nd R) and North Korea's head of delegation Kim Man-gil (L) visit a North Korean folk art shop in between talks in the North Korean city of Kaesong May 16, 2005. [Reuters]

North Korea has raised the stakes in the nuclear standoff in recent weeks amid speculation it was planning a nuclear test after announcing in February that it possessed nuclear weapons.

US National Security Advisory Stephen Hadley said Sunday an atomic test would trigger unspecified action by the United States and its allies.

Hill also said Washington was looking at other options to deal with the standoff.

"We're doing everything we can do to get this six party process going," he said.

"And we really want to, but that doesn't mean we're not going to look eventually at other options, because we have to."

China, Japan, Russia, South Korea and the United States have been seeking to entice North Korea to return to six-party talks since last June, when the last of three inconclusive rounds was held.

As concern grew about a possible test, North Korea triggered alarm by announcing last Wednesday it had completed the unloading of spent nuclear fuel rods form its nuclear reactor at Yomgbyon, 90 kilometers (55 miles) north of Pyongyang.

North Korea could dramatically increase its nuclear arsenal if it reprocessed the rods into plutonium.

At the same time, North Korea has been sending mixed messages about its willingness to attend talks.

Last week it said it would be prepared to attend new talks if the Washington confirmed through working level bilateral contact reported comments by Secretary of State Condoleezza Rice that Washington viewed North Korea as a "sovereign state" and would have one-on-one talks with Pyongyang as part of the six-party format.

Washington has no diplomatic ties with North Korea but maintains a back-channel for contact via North Korea's representative office at the United Nations.

Japan's Asahi Shimbun said a senior state department official had contacted North Korea's deputy UN ambassador Han Song-Ryol last week in a move that could indicate progress in behind the scenes negotiations.




Today's Top News
Top World News

Beijing abuzz as FORTUNE global forum opens




China AIDS vaccine begins human tests




US quotas 'hurt textile industry'




Astronauts in zero-gravity tests for mission




Industry, inflation may have cooled in April




Honda to export China-made cars to Europe