Palestinians lament founding of Israel
(Agencies)
Updated: 2005-05-16 10:42
With sirens and rallies, Palestinians on Sunday mournfully commemorated the anniversary of what they call "Al Nakba," or "the catastrophe" — the uprooting of hundreds of thousands of their people with the 1948 creation of the state of Israel.
While Israelis held barbecues, concerts and launched fireworks to celebrate the 57th anniversary of their independence Thursday — according to the date on the Hebrew calendar — Palestinians see the day very differently.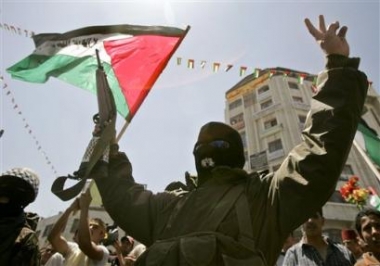 A Palestinian militant from the al-Aqsa Martyrs Brigades flashes a V-sign as other Palestinians wave national flags during a demonstration to mark the 57th anniversary of Al Nakba, or the catastrophe, the Arabic term used to describe the day Israel was created, in the West Bank town of Ramallah, Sunday May 15, 2005. Palestinians in the West Bank and Gaza Strip held rallies in lament of Israel's founding 57 years ago. [AP]

"Our people will never forget and the generations will never forget," Palestinian leader Mahmoud Abbas said in a speech aired on Palestine TV. "On that day, a crime was committed against a people, who were uprooted from their land and whose existence was destroyed and who were forced to flee to all areas of the world."

About 700,000 Palestinians lost their homes in the fighting that followed Israel's independence in 1948. Their demand to return to their homes with their descendants — a total of 4 million people by U.N. estimates — represents one of the toughest issues in the Israeli-Palestinian conflict.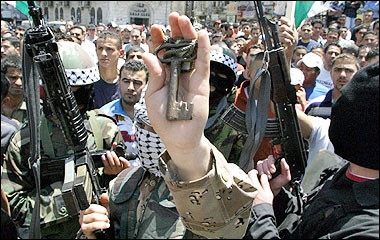 Palestinian gunmen march with an old key during a rally in the West Bank city of Ramallah on May 15, 2005 to mark the Nakba day, 57 years on from the 'catastrophe' of Israel's creation. [AFP]

Israel's Cabinet on Sunday eased restrictions that have prevented West Bank Palestinians from joining their relatives in Israel but stopped short of lifting the ban altogether, officials said.

Israel imposed the ban in May 2002, at the height of Israeli-Palestinian fighting, as a "temporary" security measure. The restrictions, which have been challenged in the Israeli Supreme Court, are believed to have kept hundreds, perhaps thousands, of Palestinians from uniting with spouses who are Arab citizens of Israel.

While Israeli officials have linked the measures to security concerns, the restrictions also cut at a deeper issue: fears that the country's Jewish majority could be threatened by granting Palestinians citizenship.

"I think the real issue here is what is called the demographic issue, the fear that the clear-cut majority of Jews in Israel would be reduced," said Moshe Negbi, an Israeli legal commentator.

Under the new rules, Palestinian women older than 25 and men older than 35 will be eligible to join family in Israel and eventually receive citizenship. Palestinian women tend to marry at a relatively young age, and keeping the limit at 25 would presumably deter many Palestinian women from seeking spouses inside Israel.

In violence late Sunday, Israeli soldiers shot and wounded two Palestinians near Ramallah. The military said they were throwing firebombs at an Israeli vehicle.

In Palestinian cities and towns, traffic stopped and people stood straight and silent as sirens of mourning sounded at noon Sunday. The sirens parallel similar sirens that sound throughout Israel on Holocaust Remembrance Day and Memorial Day, but the silence was broken Sunday by shots fired in the air by gunmen.

About 2,500 protesters marched through the streets of Gaza City waving Palestinian flags and carrying banners saying, "We will never give up struggling for our right of return." Some held posters showing elderly Palestinian refugees holding keys to their homes in what is today Israel.

"The Nakba is still a black day in the history of the Palestinian people and we've been suffering since that day," said 61-year-old Gaza resident Suleiman Arabeed. Like many of the protesters, Arabeed is a Paled stinian refugee.

Hamas, the largest Palestinian militant group, released a statement referring to Israel as a "cancer" and promising to continue fighting "until the liberation of the last inch of our land and the last refugee heads back to his home."

In southern Lebanon, about 7,000 women from Palestinian refugee camps marched in the sprawling Ein el-Hilweh camp near Sidon. The women, many in flowing black robes showing only their eyes and carrying assault rifles, swords and daggers, shouted slogans calling for the liberation of Palestine and the return of refugees, camp officials said.

In his speech, Abbas called on the host countries to ensure basic civil rights for the refugees, demanding they are granted the right to work and travel freely. Some 350,000 Palestinians live in 12 refugee camps in Lebanon and have no civil rights.

In Syria, they can work and join the army. In Jordan, most have Jordanian citizenship.

"The Nakba and the disaster forced upon our people a life in refugee camps without an identity, in the midst of oppression, despair, poverty, and disease," Abbas said. "The Palestinians have a homeland and it is called Palestine."

Also Sunday, a veteran Shin Bet operative who developed Israel's controversial practice of targeted killings of Palestinian militants took over as the new director of the security agency.

The new chief, Yuval Diskin, replaces outgoing director Avi Dichter, a hard-liner who often counseled Israeli leaders against easing restrictions on Palestinians, regardless of the possible political fallout. Commentators described Diskin, who is close to several Israeli leaders, as having more political savvy than Dichter.

The Shin Bet has played a key role in Israel's all-out campaign against Palestinian militants in more than four years of fighting, obtaining information from a network of Palestinian collaborators and by interrogating thousands of Palestinians rounded up in Israeli arrest sweeps.




Today's Top News
Top World News

Beijing abuzz as FORTUNE global forum opens




China AIDS vaccine begins human tests




US quotas 'hurt textile industry'




Astronauts in zero-gravity tests for mission




Industry, inflation may have cooled in April




Nation to create more jobs for disabled