US: N. Korea nuke test may lead to penalties
(Agencies)
Updated: 2005-05-16 09:32
The Bush administration warned North Korea on Sunday that conducting a nuclear test would be a serious act of "defiance" and would force the United States and its regional partners to consider new punitive steps against Pyongyang.
"Action would have to be taken," U.S. national security adviser Stephen Hadley told CNN's "Late Edition."
Washington's warning, coupled with similar pressure from Japan, raised the stakes in the nuclear standoff after North Korea announced last week that it had removed fuel rods from its Yongbyon nuclear reactor, a potential precursor to building more weapons or testing one.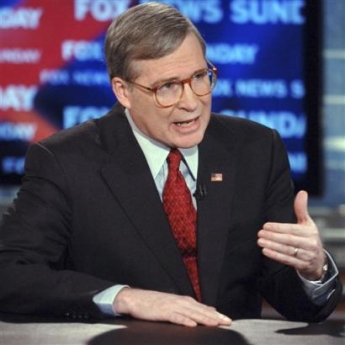 In this photo provided by FOX News Sunday, US National Security Adviser Stephen Hadley is interviewed on FOX News Sunday in Washington, Sunday, May 15, 2005. [AP]

Hadley acknowledged the difficulty of assessing whether North Korea was set to conduct a nuclear test, saying it was a "very difficult target" for U.S. intelligence agencies.

But he told Fox News Sunday: "We've seen some evidence that says that they may be preparing for a nuclear test. We have talked to our allies about that. Obviously that would be a serious step."

On CNN, Hadley said the United States had observed some activities by North Korea that are "consistent with possible preparations for a nuclear test."

But he added; "We don't know for sure."

"If there is a nuclear test, obviously that will be a defiance by North Korea of every member of the six-party talks, including China. And we think at that point we will have to have a serious conversation about other steps we can take," Hadley said.

Hadley offered no details about what specific steps the United States would seek against North Korea if it conducted a nuclear test. But he said the Japanese government has concluded that those steps would "need to include going to the (U.N.) Security Council, and potentially sanctions."

Three rounds of talks involving North Korea, South Korea, the United States, Japan, Russia and China aimed at dismantling the impoverished North's nuclear programs made little progress, and the process has stalled since the last meeting in June 2004.

Hadley sought to play down differences with China over how hard to press North Korea to return to the talks, insisting: "We're comfortable that we are all on the same page."

Washington has urged China to exert more pressure on its neighbor, including possibly cutting off its oil supply to the country.

China has rebuffed the idea and publicly asserted pressuring North Korea was the wrong tactic.

Chinese diplomats have also complained strongly to the United States that Bush's decision last month to return to using tough talk against the North Korea's leader hurt Beijing's chances of bringing Pyongyang back to the negotiating table.

Hadley brushed aside "some statements by lower-level" Chinese officials, and said U.S. and Chinese leaders are in agreement.

"The most important thing is that at the senior levels of the governments, Russia, China, the United States, South Korea, and Japan, there is agreement that a nuclear North Korea is unacceptable and we need a denuclearized Korean peninsula," Hadley said.




Today's Top News
Top World News

Beijing abuzz as FORTUNE global forum opens




China AIDS vaccine begins human tests




US quotas 'hurt textile industry'




Astronauts in zero-gravity tests for mission




Industry, inflation may have cooled in April




Nation to create more jobs for disabled