Uzbeks bury dead after troops fire on protesters
(Agencies)
Updated: 2005-05-16 09:21
Families of hundreds killed in Uzbekistan when troops opened fire to quell protests buried their dead on Sunday as witnesses told of bloody mayhem in which women and children were shot "like rabbits."
In a single incident in Andizhan on Friday, witnesses said soldiers had fired on a crowd including women and children and their own police comrades who were begging them not to shoot.
Hundreds of bodies lay overnight outside the eastern town's School No. 15 after the massacre until they were removed in the early hours on Saturday, the witnesses, who did not wish to be named, said.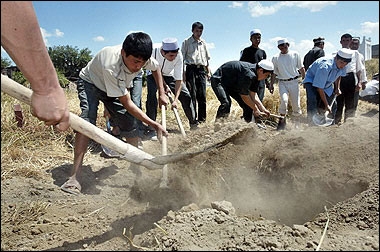 Relatives and friends of an Uzbek killed during clashes between government forces and local protesters bury him at a cemetery in the Uzbek town of Andijan.[AFP]

Islam Karimov, president of the mainly Muslim Central Asian state, said troops were given no order to fire in Andizhan. He blamed the violence on rebels belonging to the outlawed Islamist group Hizb ut-Tahrir.

Hizb ut-Tahrir denied involvement.

A Russian news agency, meanwhile, reported Uzbek troops had fired on civilians trying to flee into neighboring Kyrgyzstan to escape the violence in their homeland.

Uzbek troops moved in on protesters on Friday after armed rebels freed comrades being held in jail during their trial for religious extremism.

They took 10 police hostage and occupied Andizhan's local government building backed by several thousand sympathizers.

"They shot at us like rabbits," a boy in his late teens said, recalling the horror of troops rampaging through the town square where some 3,000 protesters had rallied to support the rebels.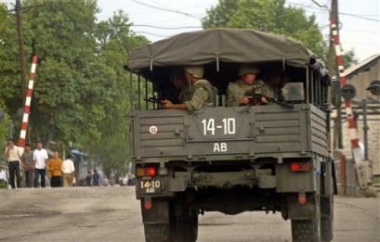 A military truck carries Uzbek soldiers on a road about 20 km (12 miles) outside the eastern Uzbek city of Andijan, Sunday, May 15, 2005. Security was tight in Andijan, Uzbekistan's fourth-largest city, as stunned residents cleaned blood off streets guarded by troops. [AP]

Two days after the uprising in Uzbekistan's Ferghana Valley, blood and body parts could still be seen on sidewalks and in gutters in the center of this leafy city of 300,000 people.

The United States, for whom Karimov is a close ally in the war on terrorism after providing Washington with an airbase in 2001, has urged the conflicting sides to show restraint. It says political change in the tightly controlled ex-Soviet state should come only through peaceful means.

In Britain, Foreign Secretary Jack Straw denounced "a clear abuse of human rights, a lack of democracy and a lack of openness" and called on Uzbekistan to allow in the Red Cross and foreign observers to establish what happened.

Tashkent reacted angrily, Russia's RIA news agency said, saying Uzbek forces had not fired on demonstrators.

Karimov on Saturday said 10 police and troops had been killed and a higher number of rebels had also died, but he gave no figure for civilians killed.

BURYING BODIES

At one of Andizhan's cemeteries, grave digger Wahhabjon Mominov said on Sunday he had already dug four graves in the morning to take victims of Friday's violence.

The facade of the two-storey School No. 15 was pockmarked with at least 20 bullet holes.

Pools of wet blood mixed with water and dirt could be seen in the blocked open drains. A blood-soaked baseball cap lay in bushes.

Witnesses said that on Saturday, when soldiers started removing bodies, a handful of wounded tried to get away but were shot dead on the spot.

"Those wounded who tried to get away were finished with single shots from a Kalashnikov rifle," said one witness, a businessman. "Three or four soldiers were assigned to killing the wounded."

The bloodshed prompted up to 4,000 people to flee to the closed border with Kyrgyzstan.

"There have been about 1,000 people in the column I was in moving toward the border," Russia's Interfax news agency quoted one of the refugees as saying.

"Uzbek troops shot at us several times although we shouted to them that we are civilians," he said. "The last time we came under fire was when we were breaking through to Kyrgyzstan. There were wounded and as far as I know four people were killed."

Nearby southern Kyrgyzstan, also part of the Ferghana Valley, is home to many ethnic Uzbeks and was the starting point for violent protests earlier this year which led to the overthrow of President Askar Akayev.

The Kyrgyz coup followed the peaceful overthrow of established leaders in Ukraine and Georgia. The firm rule Karimov exerts on his country would appear to rule out any such peaceful revolutions taking place in Uzbekistan.




Today's Top News
Top World News

Beijing abuzz as FORTUNE global forum opens




China AIDS vaccine begins human tests




US quotas 'hurt textile industry'




Astronauts in zero-gravity tests for mission




Industry, inflation may have cooled in April




Nation to create more jobs for disabled