Who says a man should not be a nurse?
(China Daily)
Updated: 2005-05-16 09:19
They are proud of being a good cook or dressmaker. But they perceive nursing to be a feminine thing, leaving it to the opposite sex.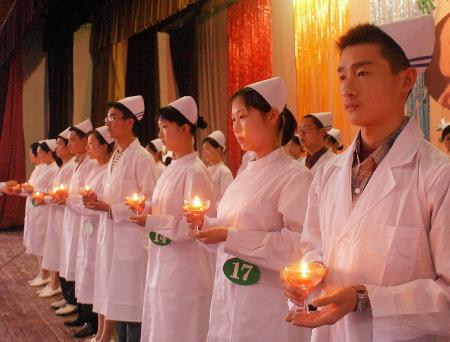 Professional nurses-to-be, a male included, swear holding candles at their graduation ceremony from Jinan School Sanitation and Hygiene on May 11, 2005. Some 36 male nurses among the all 886 turn-outs of the school are employed by hospitals. [Xinhua]


Hospitals are looking for a few male nurses but the recruitment process is a hard job.

There are only a tiny number of male nurses. According to the Ministry of Health, men accounted for only 1 per cent of the country's 1.3 million registered nurses by the end of 2004.

Men shy away from the profession for fear of cultural stereotypes.

In Shanghai, less than 40 men are nurses, but the city has 40,000 nurses in total, according to Xu Xiaoping, director of the Shanghai Nursing Association.

Seemingly, hospitals now look for men who can do heavy work. Xu said men are needed in such areas as men's wards, mental homes, ICUs, emergency and operation rooms.

Hospitals and universities are far from being ready to accept male nurses. While presenting every girl with a cap as part of the nursing uniform, the Capital Medical University found none for the seven male students majoring in nursing.

The role models picked to commemorate International Nurses Day last week were all women. The day is celebrated around the world every May 12, the anniversary of Florence Nightingale's birth.

The commemoration could have been a wonderful occasion to project the image of male nurses. However, that did not happen.

There is not enough advertising done to project the image of men in nursing. It is time to find a selling point to get more men into the profession.

The call to bring in more men has been around for many years. Still, little seems to change. Marketing to men is an easy thing to do. Beer companies do it. For one reason or another, the profession has chosen not to do it.

There will have to be a paradigm shift to attract men into nursing. It requires a sea change, starting with something like a new name and image.

While nursing carries a very strong gender stereotype in society, men will not enjoy being called nurses.

So how about "medics?" That is what they do, and the change of title could be positive for both men and women.

If they could change that word to something that does not have feminine connotations, perhaps more men will come into the profession.

Not every door the male nurses want to walk through is open to them. Hospitals try to keep them away from delivery floors and women's health wards.

Men who go into nursing have to realize it is a profession dominated by women, so if they do not get on well with women, it is not the profession for them.

A lot of men have not been able to deal with situations in which they have female supervisors.

Male nurses are frequently stereotyped as being non-achievers and feminine.

These stereotypes, as well as a belief that men are often against them, has left many men who majored in the subject suggesting that nursing is not appropriate for men.

A minor transition is being driven in part by mounting unemployment. A small number of men are willing to consider new careers, even in the "pink collar" professions that have long been considered women's work.

Tan Zhenggang, a student majoring in nursing at the Capital Medical University, said he sees the profession's potential.

"No matter where you go, you can make a living today as male nurse. Men need to know that," Tan said.

While he is a minority, Tan represents a small step by men to move into professions long dominated by women. More men are finding careers as librarians, secretaries, nannies, pre-school teachers, nurses, typists, and even lactation consultants or midwives.

Nursing encompasses the care of individuals of all ages, families, groups and communities, sick or healthy and in all settings. Nursing includes the promotion of health, the prevention of illness, and the care of ill, disabled and dying people. The promotion of a safe environment, research, participation in shaping health policy and in patient and health systems management, and education are also key nursing roles.

When I read this definition the International Council of Nurses gives to nursing, I find no feminine connotations in it at all.





| | |
| --- | --- |
| | |
| 'Star Wars' raises questions on US policy | |

| | |
| --- | --- |
| | |
| To touch the suit; to touch the space | |

| | |
| --- | --- |
| | |
| Pop star couple caught on tape | |
Today's Top News
Top Life News

Beijing abuzz as FORTUNE global forum opens




China AIDS vaccine begins human tests




US quotas 'hurt textile industry'




Astronauts in zero-gravity tests for mission




Industry, inflation may have cooled in April




Nation to create more jobs for disabled