No peace without Palestinian state: Abbas
(Agencies)
Updated: 2005-05-16 08:39
Palestinians marked the blackest day in their history with warnings that there would be no Middle East peace until they are handed independence and the plight of their refugees is solved.
Fifty-seven years on from the foundation of the state of Israel, an event known by Palestinians as the Naqba (Arabic for catastrophe), their leader Mahmud Abbas said regional stability was dependent on a just solution to his people's cause.
"Peace, stability and security in the Middle East can only be achieved with a just solution to our cause, based on the international resolutions, which stress our people's right to an independent state with Jerusalem as its capital," Abbas said in comments broadcast by Palestinian media.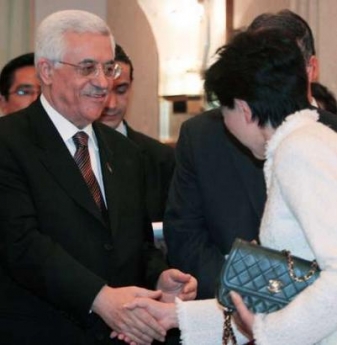 Palestinian President Mahmoud Abbas (L) shakes hands with Japan's Environment Minister Yuriko Koike at a Japan-Palestine friendship round table in Tokyo May 15, 2005. Abbas will hold discussions with Japan's Prime Minister Junichiro Koizumi and other senior Japanese officials during his three-day visit, the foreign ministry said.[Reuters]

Peace was also dependent on "achieving a just and agreed solution to the refugees issue," he added in reference to Palestinians who fled their homes or were forced out of them on the creation of Israel.

Abbas is himself a refugee, born in the town of Safed in what is now northern Israel.

The fate of the original refugees and their descendents, who are scattered throughout the occupied territories and neighbouring Arab countries, has been one of the thorniest issues of the Palestinian-Israeli conflict.

Israel steadfastly opposes the so-called right of return, aware that the demographics of the Jewish state could be overturned if all Palestinian refugees and their descendents move to modern-day Israel.

Those who stayed in their villages when Israel was created are now described as Israeli Arabs, but the majority became refugees in the West Bank, Gaza Strip and neighbouring Arab countries.

The radical Islamist movement Hamas stressed that the right of return was inalienable.

"Our people are committed to returning to their villages and no one outside can negate this right," it said.

Demonstrations were held across the occupied territories and in refugee camps around the region.

In Gaza City, several thousand protestors gathered in the centre of the city with banners demanding the right of return.

Similar demonstrations were held in the Lebanon camps of Ain al-Helweh and Beddawi.

Abbas's reference to the need for an "agreed solution" to the refugees issue, is something of an olive branch to Israel. His late predecessor Yasser Arafat always insisted that the right of return was non-negotiable.

Abbas's election in January and the prospect of an Israeli pullout from Gaza has raised hopes of a revival of the moribund peace process.

Israeli Prime Minister Ariel Sharon said in an interview with Time magazine that the decision to leave Gaza, bitterly denounced by many Israelis, "was the hardest decision I had to take".

Sharon said that while Abbas "understands the danger of terror", he was doing nothing to rein in militants.

"It is not enough to understand, to say to promise, to declare," said Sharon. "Right now we don't see any steps that have been taken."

Meanwhile, in a move likely to bolster Abbas, it emerged that Israel has authorised hundreds of Palestinian police to carry weapons in West Bank towns.

The decision to allow the police to bear arms was taken several weeks ago but it was only formally announced by the army on Sunday.

Police are free to bear weapons in the Nablus, Hebron, Ramallah and Jenin regions, as well as in the Jericho and Tulkarem regions where the Palestinian Authority is now responsible for security, a spokesman said.

Israeli authorities had barred Palestinians from bearing arms since shortly after the start of the intifada in September 2000.

Abbas and the Americans have been arguing that the Palestinian security services can only rein in armed militants and restore the rule of law if they themselves bear weapons.




Today's Top News
Top World News

Beijing abuzz as FORTUNE global forum opens




US quotas 'hurt textile industry'




China AIDS vaccine begins human tests




Nation to create more jobs for disabled




Newsweek apologizes; Afghans want action




Ageing tiger flies in for reunion