Kidnapping suspect shot in head
(eastday.com)
Updated: 2005-05-16 08:38
Police shot and captured a man suspected of kidnapping a 4-year-old girl on Saturday in Chongqing Municipality.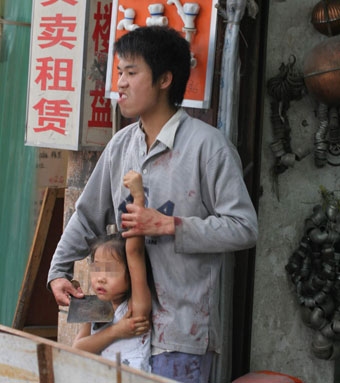 A little girl is taken hostage by a man who wields a kitchen knife, at Yuzhong District of China's southwest municipality of Chongqing, May 14, 2005. The man was injured with a bullet in the head in the wake of a failed attempt by local police to persuade him to give up. The captive girl was rescued after an hour and the abductor, reportedly a Shanxi native, was rushed to the hospital and dead upon arrival. [newsphoto]


Officers rushed the 23-year-old Shanxi Province suspect, Sun Xiaoqiang, and the injured girl to hospital, Chongqing-based newspapers reported yesterday.

The man's motive remained unclear.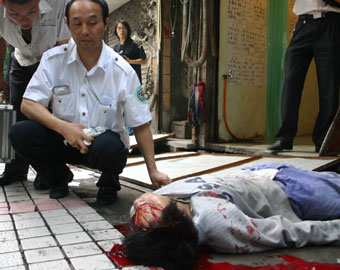 Hospital rescue team staff exam the man who was shot at the head at the scene. [newsphoto]


The drama unfolded when two police assistants reportedly found Sun hiding two 8-centimeter daggers in his clothes near an appliance store in Yuzhong District about 4:30pm. They watched him.

Sun realized he was being followed and started running, police said.

During the chase Sun broke into a hotel kitchen and grabbed a cleaver, papers reported.

Running for more than 1 kilometer with officers giving chase, Sun allegedly grabbed a teenage boy, who freed himself a short time later and fled.

Sun then grabbed the 4-year-old girl on the side of a road. He held the cleaver against the girl's neck and threatened to kill her.

During a 50-minute-long standoff with police, Sun slashed the girl's arm. The standoff ended about 6:20pm when a sniper shot Sun in the head.




| | |
| --- | --- |
| | |
| Sophie's breast-exposure steals the show at Cannes | |

| | |
| --- | --- |
| | |
| 'Star Wars' raises questions on US policy | |

| | |
| --- | --- |
| | |
| To touch the suit; to touch the space | |
Today's Top News
Top Life News

Washington raising tensions over China's currency




Fortune for all in new Asian century




New law to protect online copyright




Wu Yi to meet Koizumi in Japan




China 'sincere' about ties with Vatican




China not a threat to world energy security