Newsweek apologizes; Afghans want action
(Agencies)
Updated: 2005-05-16 08:33
KABUL, Afghanistan - Muslims in Afghanistan gave Washington three days to offer a response to a Newsweek story that claimed the Islamic holy book was desecrated at the U.S. prison in Guantanamo Bay, but the magazine apologized Sunday for the report, which prompted deadly riots across Afghanistan last week.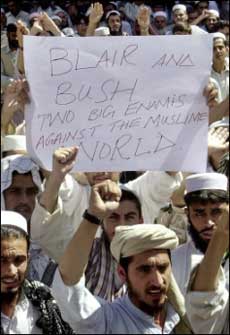 Activists shouting anti-US slogans during a demonstration in Pakistan May 14, 2005. Allegations that US guards at the 'war on terror' detention camp at Guantanamo Bay in Cuba threw Korans in the toilet surfaced more than a year ago but it was not until this week when riots broke out in Afghanistan that the US military ordered an investigation. [AFP]

Reaction across the Islamic world has been strong, with daily demonstrations since the May 9 story came out. At least 15 people died in Afghanistan after protests broke out Tuesday following the report that interrogators at Guantanamo Bay, Cuba, placed Qurans in washrooms to unsettle suspects, and in one case "flushed a holy book down the toilet."

Many of the 520 inmates at Guantanamo are Muslims arrested during the U.S.-led war in Afghanistan. In both Afghanistan and Pakistan, insults to the Quran and Islam's prophet, Muhammad, are regarded as blasphemy and punishable by death.

"The American soldiers are known for disrespect to other religions. They do not take care of the sanctity of other religions," Qazi Hussain Ahmed, the Pakistani chief of a coalition of radical Islamic groups, said Sunday.

Ahmed's comments came a day after Pakistan's President Gen. Pervez Musharraf and Prime Minister Shaukat Aziz, both allies of Washington, demanded an investigation and punishment for those behind the reported desecration of the Quran.

In Afghanistan, Islamic scholars and tribal elders called for the punishment of anyone found to have abused the Quran, said Maulawi Abdul Wali Arshad, head of the religious affairs department in Badakhshan province.

Arshad and the provincial police chief said the scholars met in Faizabad, 310 miles northeast of the capital, Kabul, and demanded a "reaction" from U.S. authorities within three days.

But Newsweek apologized in an editor's note for Monday's edition and said they were re-examining the allegations.

"We regret that we got any part of our story wrong, and extend our sympathies to victims of the violence and to the U.S. soldiers caught in its midst," Newsweek Editor Mark Whitaker wrote.

Newsweek's source later said he was unsure about the origin of the Quran allegation, and a top Pentagon spokesman told the magazine that the military "had investigated other desecration charges by detainees and found them 'not credible.'"

Meanwhile, President Bush's national security adviser said Sunday the allegation was being investigated "vigorously."

"If it turns out to be true, obviously we will take action against those responsible, Stephen Hadley said in an interview for CNN's "Late Edition."

Ahmed, the religious leader in Pakistan, said Islamic groups in Pakistan, Egypt, Malaysia, Britain and Turkey would hold protests on May 27 against the alleged desecration.

Lebanon's most senior Shiite Muslim cleric on Sunday said the reported desecration of the Quran is part of an American campaign aimed at disrespecting and smearing Islam.

Grand Ayatollah Mohammed Hussein Fadlallah urged Muslims and international human rights organizations "to raise their voices loudly against the American behavior, which is hostile to Islam and Muslims."

In a statement faxed to The Associated Press, Fadlallah called the alleged desecration a "brutal" form of torture.

"This act is not an individual act carried out by an American soldier, but rather it is part of the American behavior of intellectual and psychological education in disrespecting Islam and smearing its image in the souls of Americans," Fadlallah said.




Today's Top News
Top World News

Beijing abuzz as FORTUNE global forum opens




China AIDS vaccine begins human tests




US quotas 'hurt textile industry'




Astronauts in zero-gravity tests for mission




Nation to create more jobs for disabled




Newsweek apologizes; Afghans want action