Beijing abuzz as FORTUNE global forum opens
By Bao Daozu (China Daily)
Updated: 2005-05-16 05:18
The private jets are streaming in, sparkling limousines are on standby, multi-lingual guides are at the ready, the best hotels in town are all decked out and hundreds of banners are strung along the roads.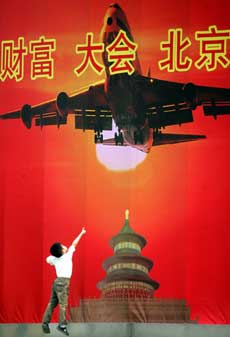 A five-year-old boy points to a FORTUNE global forum poster at the Beijing Capital International Airport May 15, 2005. The opening ceremony of the forum, orginally planned to open at the Temple of Heaven, will be held in the Great Hall of the People in downtown Beijing due to moderate rains forecast May 16. [newsphoto]

Yes, there's definitely a buzz in Beijing as the curtain rises on the three-day FORTUNE Global Forum with a four-hour opening ceremony this evening.

More than 800 participants - CEOs, chairpersons and presidents of Global 500 firms and domestic enterprises; top government officials; and renowned scholars - will be brainstorming on various issues.

And they will be listening keenly as President Hu Jintao shares his vision of China and the New Asian Century, the theme of the forum, in his keynote address.

Robert Bierman, president of the conference division of FORTUNE Magazine, said yesterday that he expected the forum, the ninth of its kind, to be the best ever.

"We want it to be perfect," he told a press conference. To that end, the organizers, not willing to take any chances, have moved the opening ceremony from the park of the historical Temple of Heaven to the Great Hall of the People as drizzle is forecast for this afternoon.

But for business leaders from home and abroad, what's more alluring than a spectacular opening ceremony is the opportunity to network and debate topics close to their hearts.

For multinationals - 77 of the Global 500 companies are represented - the forum presents a great opportunity to learn more about China and the direction the country is headed.

Vice-Premier Zeng Peiyan and over a dozen ministers will deliver keynote speeches or brief participants on the latest developments and new strategies in sectors such as energy, finance, trade and information technology.

"I am here to meet Chinese officials and learn more," said Kevan Watts, chairman of Merrill Lynch who is attending a FORTUNE forum for the first time but has been to China before.

"It is always good to come back to China," he told China Daily.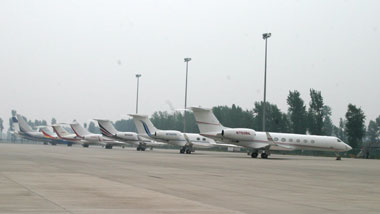 Private jets carrying business leaders to Beijing for the Fortune global forum park at the Beijing Capital International Airport May 16, 2005. More than 50 private executive jets are expected to land in Beijing for the forum, which is to open in the Great Hall of the People this evening. [newsphoto]

Xu Jun, director of external affairs of Wal-Mart (China) Investment, said his boss - John Menzer, president and CEO of Wal-Mart International - was keen on exchanges with people at the forum.

"Moreover, he wants to get the views of China's top leadership," he said.

For Martin Sorrell, chief executive of London-based communications giant WPP, the mission in Beijing is "to learn and work, not to play."

He said he was very excited with the emerging opportunities in China's advertisement industry brought about by the country's rapid economic development, and is seeking fresh ideas at the forum.

Like the foreign business elite, domestic entrepreneurs from 252 enterprises are pinning high hopes on the gathering.

"It will be a place for them to learn from their foreign rivals and get to know how major multinationals operate," Jiang Weiqiang, director general of the international department of the State Council Information Office, said yesterday.

"We are here to meet top entrepreneurs and listen to their comments on economic development trends," said Wang Jianlin, chairman and president of Dalian Wanda Group.

Li Ruishan, deputy director of the international department of Agricultural Bank of China, said he hoped to exchange notes with participants from "real big-name companies."

Jaime FlorCruz, chief representative of the forum, said: "The forum helps the branding of Beijing and China, when all the information about China and 'the China effect' spreads out to the rest of the world.

"It's especially important for Beijing to impress people as a modern business-friendly and hospitable city."

It is the third time that FORTUNE Magazine is holding a forum in China after Shanghai in 1999 and Hong Kong in 2001.

But this year is especially "exciting" for the forum, said Bierman. Compared with the previous two sessions, more multinationals have expressed a desire to come to Beijing.

The numbers speak for themselves: 57 Global 500 firms attended the Shanghai forum while the Hong Kong event attracted 60.

"This year, we expect the figure to top 80 by the end of the forum," he said.

Moreover, with China playing an increasingly important role in the world arena, the forum's agenda is broader.

The forum in Shanghai focused on China's domestic market while that in Hong Kong was on the Asian economy.

This year, by setting "China and the New Asian Century" as the theme, Bierman said the forum has truly found a "global vision."

(China Daily 05/16/2005 page1)




Today's Top News
Top China News

Beijing abuzz as FORTUNE global forum opens




China AIDS vaccine begins human tests




US quotas 'hurt textile industry'




Astronauts in zero-gravity tests for mission




Industry, inflation may have cooled in April




Nation to create more jobs for disabled