Bodies of 13 men discovered in Sadr City
(Agencies)
Updated: 2005-05-15 19:42
The bodies of 13 blindfolded and bound men were found shot multiple times in the head execution style in Baghdad's Sadr City on Sunday, police said.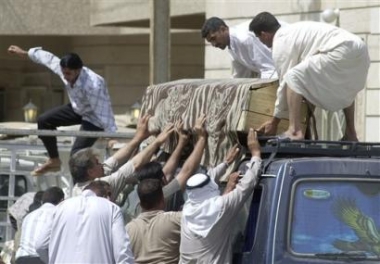 The coffin of Jassim Mohammed Ghani, a Director General of the Iraqi Foreign Ministry who was slain in a drive-by shooting outside his Baghdad house Saturday night, is taken from the Yarmouk hospital in Baghdad, Iraq Sunday, May 15, 2005. [AP]


The grisly discovery came as two separate drive-by shootings in Baghdad killed a senior Industry Ministry official, his driver and a Shiite cleric.

Police Lt. Col. Shaker Wadi Al-Maliki said the 13 slain men, most appearing to be in their early 20s, were discovered early Sunday wearing civilian clothes and lying in a shallow grave in a vacant lot in eastern Baghdad's impoverished Sadr City.

Judging by the nature of the wounds and the condition of the bodies, police officials believed the men were shot either late Saturday or early Sunday.

An Associated Press photographer saw the bodies lying in the grave with their hands tied behind their back, eyes blindfolded and at least three bullet wounds in each of their heads.

Also on Sunday, two carloads of gunmen opened fire on an Industry Ministry official and his driver, killing both in a hail of bullets, police Maj. Moussa Abdul Karim said.

The victims were traveling in a pickup truck through Baghdad's Al-Gazaliya area when they were attacked, Karim said.

An Interior Ministry official, speaking on condition of anonymity, identified one of the victims as Col. Jassam Muhammed al-Lahibi, a former intelligence officer who worked as an assistant director in charge of government-owned buildings.

Industry Ministry officials were not immediately available for comment.

In another drive-by shooting, unidentified attackers killed Shiite cleric, Sheik Qassim al-Gharawi, and his nephew at about 9 a.m. in the capital's New Baghdad neighborhood, according to police Lt. Col. Ahmed Aboud.

The violence came the same day that Secretary of State of Condoleezza Rice arrived in Iraq for a one-day visit. She met with political leaders to discuss the new government's upcoming tasks, including writing a constitution.

Rice was the first senior American official to visit the country since the new government was sworn in. Her trip was weeks in the planning, but kept secret even from top State Department officials until the last minute.





Today's Top News
Top World News

Japan, China to meet over disputed East China Sea




China AIDS vaccine begins human tests




Moscow urged to probe police-Chinese clash




China slams US' reimposing textile quotas




Beijing ready for Fortune Global Forum: Mayor




Inter-Korean talks to take place Monday