Rice make surprise visit to Iraq
(Agencies)
Updated: 2005-05-15 15:57
Secretary of State of Condoleezza Rice, on a heavily guarded surprise trip to Iraq on Sunday, urged patience for the country's fragile new government and said Iraqis have made remarkable political progress that can overcome a recent surge of violence.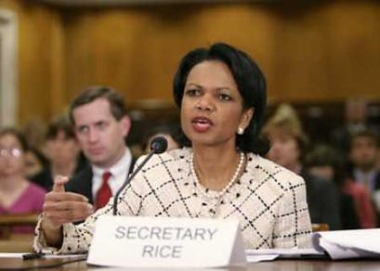 Secretary of State Rice made a surprise visit to Iraq on Sunday to support the new Iraqi government. In this file photo, Rice gestures during testimony before the Senate Appropriations Committee on Capitol Hill, in Washington May 12, 2005. [Reuters]


"Obviously there is a security situation ... I want and have wanted to go to Iraq at the right time, and the right time is when they had a new government," Rice said en route to this town in Kurdish northern Iraq.

Rice flew immediately to the mountain stronghold of Kurdish Democratic Party Massoud Barzani. She rode in an Apache military helicopter under extremely heavy security.

The one day trip was Rice's first visit to Iraq as the nation's top diplomat.

Rice was a chief architect of the U.S.-led invasion of Iraq as White House national security adviser during President Bush's first term and she accompanied Bush on his own surprise visit to Iraq on Thanksgiving Day 2003.

Rice said she wanted to discuss the new government's upcoming tasks including writing a constitution, as well as addressing the country's security and infrastructure needs.

The visit came as U.S. Marines wrapped up a weeklong campaign against insurgents far away along the Syrian boarder. It was the most intense fighting for U.S. forces in months.

"Yes, the insurgency is very violent, but you can beat insurgencies not just militarily," Rice told reporters. "You can beat them having a political alternative that is strong," and in which all Iraqis are invested, Rice said.

Rice was the first senior American official to visit the country since the new government was sworn in. Her trip was weeks in the planning, but kept secret even from top State Department officials until the last minute.

Most Iraqi officials learned of the visit only hours before Rice landed in the region aboard a borrowed government plane, said a senior adviser to Rice, Jim Wilkinson

"We went to every length possible to keep it from as many people as possible," Wilkinson said.

"If you didn't need to know, you didn't know."

If the timing of Rice's trip underscored the importance U.S. officials place on the success of the new multiethnic government, the secrecy and security surrounding the visit were evidence that Iraq is a dangerous and unstable place two years after the fall of Related.




Today's Top News
Top World News

Japan, China to meet over disputed East China Sea




China AIDS vaccine begins human tests




Moscow urged to probe police-Chinese clash




Beijing ready for Fortune Global Forum: Mayor




China slams US' reimposing textile quotas




China, US prepare for presidents' visits 2005