China AIDS vaccine begins human tests
(Xinhua/Agencies)
Updated: 2005-05-15 10:47
Chinese scientists administered an experimental AIDS vaccine on Saturday to some volunteers, the official Xinhua news agency reported.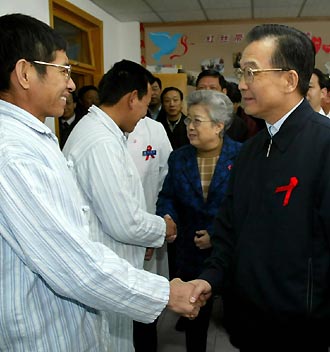 Chinese Premier Wen Jiabao and Vice-Premier Wu Yi, who also serves as the health minister, marked World AIDS Day Monday by meeting with AIDS patients at Beijing's Ditan Hospital, December 1, 2003. Wen became the first Chinese premier to shake hands with AIDS patients. China has reported 840,000 HIV/AIDS cases, among which 80,000 were AIDS patients. Despite the low prevalence rate nationally, the epidemic spread to 31 provinces of the country. [Xinhua]


The vaccinations launched the second phase of clinical testing for AIDS DNA vaccine in southwestern China's Guangxi Zhuang Autonomous Region.

The AIDS vaccine consists of two gene vaccines, one containing DNA of the AIDS virus and the other carrying poxvirus.

The volunteers will receive the poxvirus vaccine in three months, said Wang Youchun, director of the cell laboratory under the Institute for the Control of Drugs and Biological Products.

The AIDS DNA vaccine is aimed at helping the body's antibodies and cells to form immunity to HIV, the AIDS virus, and the poxvirus vaccine is aimed at strengthening the immunity, the developers said.

The safety of the two gene vaccines was tested in the first phase of trials. The second phase is to examine their combined safety, which means vaccinating volunteers twice with each vaccine, Wang said.

China is estimated to have 840,000 HIV carriers, including 80,000 AIDS patients.





Today's Top News
Top China News

Japan, China to meet over disputed East China Sea




China AIDS vaccine begins human tests




Moscow urged to probe police-Chinese clash




Beijing ready for Fortune Global Forum: Mayor




China slams US' reimposing textile quotas




China, US prepare for presidents' visits 2005