Central bank dismisses rate rumour
By Zhang Dingmin (China Daily)
Updated: 2005-05-14 07:03
The head of China's central bank on Friday dismissed rumours that China's local currency, the renminbi, will be allowed to appreciate on May 18.
Asked to clarify the situation, Zhou Xiaochuan, governor of the People's Bank of China, dismissed the speculation out of hand.
"Can we take that seriously? Of course not," the Xinhua News Agency quoted Zhou as saying.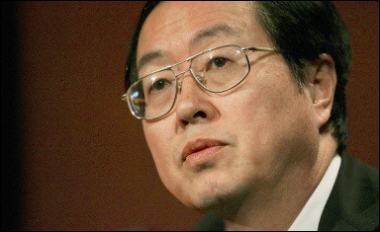 Zhou Xiaochuan, governor of the People's Bank of China.

The plan by the China Foreign Exchange Trade System in Shanghai to start trading eight new foreign-currency pairs next Wednesday fuelled speculation that the government might use the occasion to widen the yuan's trading band.

Bloomberg News reported that analysts including Jim O'Neill of Goldman Sachs Group Inc and Frank Gong of JP Morgan Chase & Co predicted a change may come on that date.

China has recently been under growing pressure from major trading partners, particularly the United States, to revalue its currency.

US critics complained the yuan was undervalued to give Chinese commodities an unfair competitive advantage. However, a number of top economists have warned that a forced renminbi appreciation will harm the Chinese and even Asian economies in general.

"It is foreigners, especially some individual foreigners, who have predicted the yuan's appreciation on May 18," Zhou said after attending a forum sponsored by the Chinese Academy of Social Sciences.

"As a big country, China's reform is mainly the result of its internal incentives and pressures, and our reform should start with the logic of internal reform, internal agenda and needs," Zhou said.

"No matter what the policy, be it taxation, interest rates, or exchange rate, that's the way we look at things."

Given its growing influence in the world, China will pay close attention to opinions from all sides and the impact on the world economy, especially on neighbouring countries, when it considers reform measures, the governor added.

Other Chinese central bankers have also said the recent speculation, particularly when coupled with pressure from the US, could only impede China's plans to reform the renminbi exchange rate.

Tan Yaling, a senior manager at the global Markets Department of the Bank of China, the nation's largest foreign exchange bank, said China is unlikely to change the renminbi exchange rate regime before the fourth quarter of the year, saying the conditions are not yet in place.

"Macro management has not yet run its course," she said, referring to government efforts aimed at bringing the rapidly growing economy to a soft-landing. "Investment and the property markets remain overheated, and consumption remains lukewarm."

Externally, the US Federal Reserve's monetary policy intentions, which may influence foreign exchange inflows into China, will remain unclear until the third quarter, she said.

"Speculation is too strong," Tan added. "And with the world's three major currencies (the US dollar, euro and Japanese yen) all declining, why should the renminbi appreciate?"

Tan said premature exchange rate reform would deal a blow to China's fragile banking system, which is saddled with huge bad loans. "An inefficient banking system would be a drag on the economy instead of supporting it," she said. "A move now could only bring harm."

Following Zhou's remarks, Reuters reported foreign investors were scaling back their bets that China was about to relax controls over yuan trading.

The yuan non-deliverable forward market in Singapore showed on Friday that investors now expect a 0.7 per cent gain in the yuan's value over the next month, compared with a prediction of 1.1 per cent on Thursday and record high expectations of a 1.3 per cent appreciation recorded on May 3.

US: 27.5% tariff on China products is illegal

US Trade Representative Rob Portman rejected moves in Congress to slap a deadline on China to relax its currency or face punitive US tariffs.

He said it was essential that China do more to welcome US goods and to protect intellectual property rights.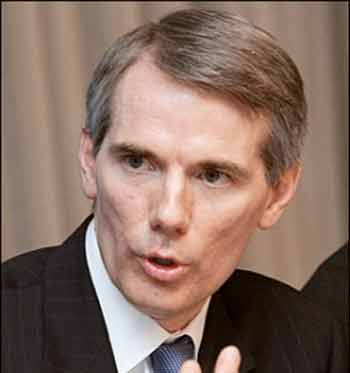 US Trade Representative Rob Portman, seen here 04 May 2005, rejected moves in Congress to slap a deadline on China to relax its currency or face punitive US tariffs. [AFP/File]

"We think that legislation would be counter-productive," he told the CNBC network.

At least a dozen senators from both the Republic and Democratic parties in February proposed a law that would slap a 27.5 percent tariff on all Chinese imports if Beijing does not scrap the yuan-dollar peg within six months.

Portman said such a tariff "would likely not be legal under the World Trade Organization standards" and China would probably retaliate, sparking "a trade war that would hurt both of us".

"The better option (is) open up the Chinese market for our workers and farmers, that's what I'm about," he said.




Today's Top News
Top China News

China, US prepare for presidents' visits this year




US re-imposes quotas on Chinese clothing




Soldier describes wiring Iraq abuse victim




Central bank dismisses rate rumour




Flexibility of US, DPRK rekindles hope for talks




US told not to mix trade with politics