Soldier describes wiring Iraq abuse victim
(Agencies)
Updated: 2005-05-14 10:11
A soldier already convicted of abuse in the Abu Ghraib prison scandal testified on Friday that he was the one who attached wires to a naked, hooded Iraqi in an attempt to gain information about the whereabouts of the bodies of four U.S. soldiers and locate their killers.
Pvt. Ivan Frederick's testimony did not appear to help the government's case against Spc. Sabrina Harman, who the government has charged with placing wires on the prisoner pictured in a photo that sparked global outrage.
Harman faces six and a half years in prison if convicted on all charges, which include posing with a broad smile before a pyramid of naked detainees and photographing them as they were forced to masturbate.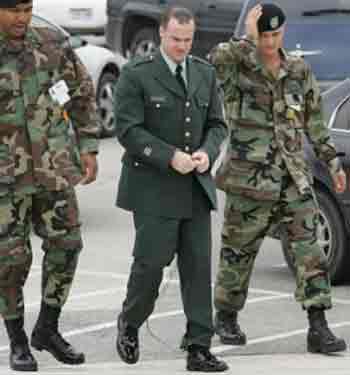 Pvt. Ivan L. Frederick, II, center, is escorted into the courthouse Thursday, May 12, 2005 in Fort Hood, Texas. Frederick, II, previously pleaded guilty at a general court-martial to charges involving prisoner abuse at Abu Ghraib prison in Iraq and is expected to testify in the trial of Spc. Sabrina D. Harman, which started Thursday. Harman is also facing charges in connection with prisoner abuse at the Abu Ghraib prison. She could face up to 6 1/2 years if convicted of conspiracy to maltreat detainees, five counts of maltreating detainees and dereliction of duty. [AP]

"She was kind of happy like it was a joke," Spc. Jeremy Sivits, who has already pleaded guilty to abuse charges, said about Harman's reaction to the naked pyramid.

Her outlook changed when the detainees were forced to masturbate as they lined up along a prison hallway. "She was pretty disgusted by it," he said.

The Friday testimony shed new light on the incident in which U.S. soldiers attached wires to the Iraqi and told him he would be electrocuted if he stepped off a box.

Frederick, serving an eight-year prison sentence, said the Iraqi man was thought to have information about who killed four U.S. troops and where their bodies were. An investigator wanted him to be sleep deprived before interrogation the next day, he said.

"Agent Romero wanted him stressed," Frederick told a military court at the nation's largest Army base. He quoted the agent as saying, "I don't give a f--- what you do, I just want him to talk tomorrow."

Frederick said a second soldier later placed the Iraqi man on the box.

The soldier, temporarily on leave from prison to testify at Harman's court-martial which began on Thursday, said investigators found the Iraqi did not have information about the deaths, and he was eventually given special privileges.

In later testimony, a military intelligence soldier said he was present when three men accused by the U.S. military of raping a boy were brought in and were handcuffed together naked in a pile on the prison floor by Frederick and abuse ringleader Charles Graner.

Spc. Israel Rivera said he was too intimidated to report the incident or to protest. "They were the ones with the authority," Rivera said.

Asked why he did not report the incident, he responded: "It seemed like it would be compromising my own safety. If they were willing to do this to a detainee, why wouldn't they do this to me?"

The prosecution rested its case after a series of witnesses on Friday, many of whom appeared to diminish Harman's role in the abuse. The court planned to meet on Saturday to discuss legal motions and then reconvene the jury to hear the defense case on Monday.

Six U.S. soldiers including Frederick have already pleaded guilty to Abu Ghraib abuses, and Graner was convicted in a court-martial and is now serving a ten-year sentence.




Today's Top News
Top World News

China, US prepare for presidents' visits this year




US re-imposes quotas on Chinese clothing




Soldier describes wiring Iraq abuse victim




Flexibility of US, DPRK rekindles hope for talks




US told not to mix trade with politics




Forum produces high-tech consensus with EU