Hizbollah, Israeli forces clash in border area
(Agencies)
Updated: 2005-05-14 08:38
Israeli artillery and aircraft pounded the outskirts of Lebanese border villages on Friday in a fierce clash with Hizbollah guerrillas that ratcheted up tensions on the volatile frontier.
The fighting in the disputed Shebaa Farms strip comes as Lebanon prepares to hold its first general election without a Syrian military presence for 33 years.
There were no reports of casualties on either side in the fighting, which abated less than two hours after it had begun. The clash came two days after a rocket was fired from south Lebanon into northern Israel, damaging a building.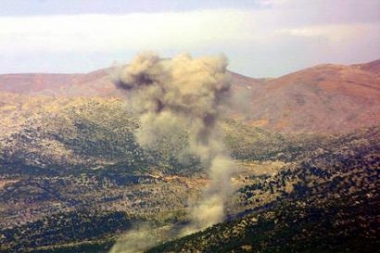 Smoke rises from Shebaa farms in south Lebanon on the border with Israel May 13, 2005. Israeli artillery and aircraft pounded the outskirts of Lebanese border villages on Friday in a fierce clash with Hizbollah guerrillas that ratcheted up tensions on the volatile frontier. [Reuters]

Israeli aircraft and artillery struck the outskirts of Lebanese border villages near the Shebaa Farms, and further west near the towns of Khiam and Rmeish, some distance from the disputed strip, Lebanese security sources said.

Pro-Syrian Hizbollah said it shelled an Israeli post inside the Shebaa Farms, near the border between Lebanon, Israel and Syria's Israeli-occupied Golan Heights.

The United States said it was "deeply concerned" and urged both sides to immediately end the fighting.

"This opportunity for reaffirming democracy in Lebanon must not be undermined by militias pursuing their own agendas," State Department spokesman Richard Boucher told reporters, referring to Syrian-backed Hizbollah, which also has a bloc in parliament.

In New York, U.N. Secretary-General Kofi Annan called the exchange of fire, the third border violation in recent days, "a worrisome escalation" and reminded both sides "one violation cannot justify another," chief spokesman Fred Eckhard said.

Annan urged both sides to exercise restraint and again called on the Lebanese government to extend its control to all its territory and put an end to all attacks originating from within its borders, Eckhard said.

Hizbollah and Israel accused each other of firing first.

"In response to the Israeli assault that targeted the border town of Kfar Shouba and struck civilian houses, the Islamic Resistance attacked the Israeli enemy position in Rweisat al-Alam ... with the appropriate arms and struck it directly," a statement from Shi'ite Muslim Hizbollah said.

Minutes before the Hizbollah attack, witnesses said Israeli forces had begun shelling a hillside east of Kfar Shouba, which lies closest to the disputed strip. Israeli machine-gunners also fired on residential areas of the town, they said.

The Israeli army said Hizbollah fired more than 10 mortars and rockets at army bases in the Shebaa Farms. It had retaliated with air strikes on three Hizbollah posts and artillery fire on a fourth.

Israel's Channel 2 quoted Prime Minister Ariel Sharon as saying he was not interested in an escalation of tensions on the border. But the Israeli army's northern commander Benny Gantz told reporters: "If we have to respond, we'll respond."

SPORADIC CLASHES

Lebanon said Israel was responsible for the escalation in violence and urged the United Nations to intervene.

U.N. chief Kofi Annan had expressed "grave concern" about Wednesday's rocket strike on the Israeli town, urging Beirut to extend its control to the border and put an end to such attacks.

No one claimed responsibility for the attack, and Hizbollah, which controls the border, declined to comment. Palestinian militants have fired rockets over the border in recent years.

"UNIFIL is in touch with all parties with a view to preventing an escalation and stopping the conflagration," said Milos Strugar, spokesman for the U.N. force that monitors the Lebanese-Israeli border. He gave no details.

Hizbollah was instrumental in ending Israel's 22-year occupation of southern Lebanon in 2000. But the two foes have sporadically clashed in the Shebaa Farms since.

The United Nations says Israel's withdrawal from Lebanon is complete and the Shebaa Farms is Israeli-occupied Syrian land. Lebanon and Syria say the area is still occupied Lebanese soil.

A U.N. resolution called last year for Syria to withdraw from Lebanon and for Hizbollah to disarm. Syrian troops pulled out last month under Lebanese and international pressure.




Today's Top News
Top World News

China, US prepare for presidents' visits this year




Central banker denies yuan revaluation




US told not to mix trade with politics




Flexibility of US, DPRK rekindles hope for talks




Forum produces high-tech concensus with EU




Soong wraps up 9-day mainland visit