Uzbek troops storm govt building seized by rebels
(Agencies)
Updated: 2005-05-14 07:54
Uzbek troops on Friday stormed a state building held by rebels who had broken their comrades out of prison and led anti-government protests that left at least 10 dead.
According to scarce official reports, nine people died in the day of violence in Andizhan, a town in Ferghana valley seen by the government as home to Muslim extremists. But media reports suggested the number of dead could be much higher.
Rebels raided a police station and military barracks, freed inmates of a local prison and then seized the state building with 10 police hostages. Their action prompted thousands to protest and some demanded President Islam Karimov stand down.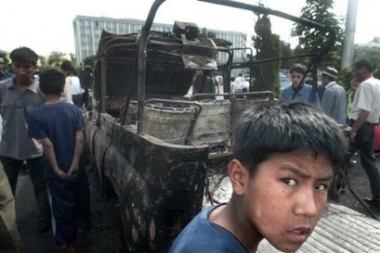 Local residents stand at a burned car at the square outside the administration building in downtown Andijan, Uzbekistan, Friday, May 13, 2005. [AP]

"This is the limit. Our relatives started to disappear," one rebel leader, who declined to give his name, told Reuters inside the administration building. He said he had been freed from jail. "We suffered too much, people have been driven to despair, it has to be stopped."

Troops then opened fire on a square in Andizhan where protesters had massed and stormed the building. By evening, a government source said the building had been taken back but declined to comment on the number of casualties.

Uzbekistan, a Central Asian country bordering Afghanistan, was quick to offer the United States an airbase after the Sept. 11, 2001 attacks on U.S. cities and has become a key ally in Washington's war on terrorism.

But Karimov, in power since the country won independence from the Soviet Union in 1991, has been widely criticized by the West for human rights abuses. Rights groups say there are at least 6,000 religious and political prisoners in Uzbekistan, where only state-sponsored Islam is allowed.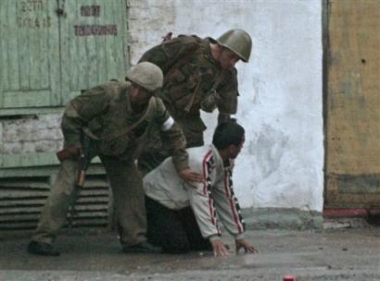 Uzbek soldiers search a local resident at the square outside the administration building in downtown Andijan, Uzbekistan, Friday, May 13, 2005. [AP]

Peaceful protests broke out in Andizhan earlier this week to demand the release of 23 Muslim businessmen, who one rights group said were facing trumped-up charges of religious extremism.

In Washington, White House spokesman Scott McClellan urged the Uzbek government and demonstrators to show restraint. The European Union blamed Karimov's government policies for provoking the violent protest.

Russia, Uzbekistan's former colonial master alarmed by a recent string of revolutions that had replaced governments in ex-Soviet republics, said it fully supported Karimov.

"Russia denounces the provocation by extremists in Uzbekistan," the Foreign Ministry said in a statement. "In this difficult moment Russia supports the government of friendly Uzbekistan."

A DAY OF VIOLENCE

A government source said troops had taken back the building, but there was no independent confirmation of the report. Accounts of the storming were also contradictory.

"The square has been cleared. Protesters have left. The building has been freed from those who seized it. The search for weapons is under way," the government source, who did not wish to be named, told Reuters from the capital Tashkent.

But Russia's Interfax news agency quoted a witness, reached by telephone from Moscow, as saying the operation ended in many deaths including some hostages.

"The military launched the storming and hunted for both armed rebels and civilians. Shots were fired at women and children used by rebels as a human shield for rebels," he said. "As a result, hostages, including local officials, were killed."

During the day thousands of people gathered at a square in front of the building seized by the rebels to support them.

"The nation has been tortured by the totalitarian regime of President Karimov and by corruption at all levels of the state," said one man, addressing the crowd with a loudspeaker. "The people demand justice, freedom and democracy."

At some stage troops opened fire on the square, prompting panic among protesters, many of whom fled. In the confusion, it was unclear if troops had fired on the crowd.

After the shooting this correspondent saw a man, covered in blood, lying motionless and apparently dead. Two others were injured.

The authorities, in a statement carried on state television, said the rebels had refused to compromise.

Interfax said Karimov had rushed to the town and had been negotiating with the protesters, but there was no sighting of him during the day.

In Tashkent, guards outside the Israeli embassy shot dead a suspected suicide bomber, the Israeli Foreign Ministry said. Suicide bombers targeted the Israeli and U.S. embassies in the city last year.

Kyrgyzstan's border guards said they had closed the border with Uzbekistan. The coup in Kyrgyzstan, which ousted President Askar Akayev, followed peaceful revolutions in Ukraine and Georgia that installed Western-leaning leaders.




Today's Top News
Top World News

Central banker denies yuan revaluation on May 18




US told not to mix trade with politics




Flexibility of US, DPRK rekindles hope for talks




Forum produces high-tech concensus with EU




Soong wraps up 9-day mainland visit




Mainland-Taiwan undersea tunnel planned