Soong wraps up 9-day mainland visit
By Cao Desheng (China Daily)
Updated: 2005-05-13 23:51
The mainland's top Taiwan policy-maker announced on Friday that the mainland will offer to ease restrictions on contacts between the two sides to facilitate the Taiwan compatriots' cross-Straits trips, and make it easier for Taiwan residents to study and work on the mainland.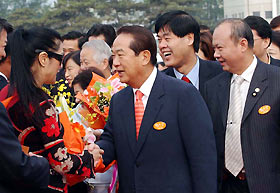 PFP Chairman James Soong shakes hands with local residents who come to airport to see him off at the Beijing Capital Airport Friday. [Xinhua]

Entry and exit procedures as well as residency applications are to be simplified for Taiwan residents, said Chen Yunlin, director of the Taiwan Work Office of the Communist Party of China (CPC) Central Committee.

"Tuition fees for Taiwan students will be reduced to an equal level with that of their mainland counterparts and a scholarship is to be set up for them later this year," Chen said.

He called on the Taiwan authorities to recognize the schooling records of Taiwan students studying on the mainland as soon as possible to protect their legitimate rights and interests.

Meantime, the labour departments are working to improve relevant polices to ease employment law governing Taiwan compatriots who are willing to work on the mainland, he said.

Under the new policy, Taiwan graduates from mainland universities will enjoy equal opportunity to work on the mainland with their mainland counterparts, Chen added.

The announcement came as James Soong, chairman of Taiwan's People First Party (PFP), wound up his 9-day mainland visit and returned to Taiwan on Friday.

"This is another gesture showing the easing of tensions across the Taiwan Straits," Chen said, "These moves aim to substantially solve the issues Taiwan compatriots are concerned about."

"The mainland has demonstrated its sincerity in pooling together wisdom across the Taiwan Straits to erase past misunderstandings between the two sides," Soong said before boarding the plane to Taiwan.

The PFP leader said that only peace could bring happiness to people on both sides. He pledged to bring the mainland's "goodwill and sincerity" that he experienced back to Taiwan.

No problem will be left unsolved under the one-China framework, said Soong, vowing to try his utmost to make the proposals jointly launched by the CPC and PFP during his visit a reality.

Dubbing his visit a "bridge-building journey", Soong hoped his mainland visit could build "a bridge of mutual trust, communication and soul" between the Chinese people on both sides of the Taiwan Straits.

On Thursday, after a meeting between Soong and the General Secretary of CPC Central Committee Hu Jintao, the two proposed a "two sides, one China" formula as a basis for Beijing and Taipei to resume talks.

The "two sides, one China" wording redefines a 1992 consensus between the mainland and Taiwan that the island and mainland form "one China".

Lin Yung-yao, vice-chairman of the Beijing Association for Taiwanese Entrepreneurs, said that if the Democratic Progressive Party (DPP) administration continues to set up obstacles to the development of cross-Straits relations, they will only come to a political dead end.

Taiwan business woman Huang Mee Lian, chairwoman of Ever Rich Holdings Co Ltd, said a ruling party must consider public opinion when it formulates its policies.

"We appeal to the DPP administration to take positive actions in handling the cross-Straits relations to protect the interests of Taiwan business people on the mainland," she said.




Today's Top News
Top China News

Central banker denies yuan revaluation on May 18




US told not to mix trade with politics




Flexibility of US, DPRK rekindles hope for talks




Forum produces high-tech concensus with EU




Soong wraps up 9-day mainland visit




Mainland-Taiwan undersea tunnel planned