Pakistani FM: US should punish troops if Koran allegations are true
(Agencies)
Updated: 2005-05-13 15:37
Pakistan's Foreign Minister Khurshid Kasuri called for severe punishment for US soldiers if allegations they desecrated copies of the Koran were proved true.
Speaking in Sydney where he is on a three-day visit, Kasuri said allegations that US jailers in Guantanamo Bay had abused the Muslim holy book had provoked outrage throughout the Islamic world.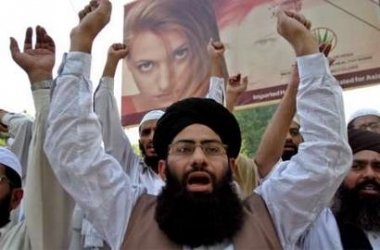 Pakistani protestors chant anti-U.S. slogans during a rally in Lahore May 12, 2005. They protested on Thursday over a recent magazine report that U.S. interrogators in Guantanamo Bay had desecrated the Koran.[Reuters]

"Yes, it's abominable the reports that emanated from Guantanamo Bay," Kasuri said Friday following a speech to an independent think-tank, the Lowy Institute.

"It's unthinkable that someone could be so debased, inhuman, depraved as to provoke the feelings of not just those people there (in Guantanamo) but all over the Muslim world.

"I have no doubt that the entire Muslim world is outraged. So I urge the United States administration to take very strong action against the culprits."

Kasuri said while the US administration had distanced itself from the allegations, firm action was needed, particularly following allegations of prisoner abuse at the Abu Ghraib jail in Iraq.

"In order to send a message, particularly about prison abuses ... I hope this time they take a much stronger action because the indignation and rage is universal."

"Even the worst enemy of the United States could not harm the image of the United States in the Muslim world as effectively as they've done if this is correct," he said.

Newsweek magazine last week reported that interrogators at the US military detention center in Guantanamo Bay, Cuba, desecrated copies of the Koran by leaving them in toilet cubicles and even stuffing one down a lavatory to rattle Muslim prisoners.

The allegations have prompted protests in Afghanistan in which seven people have been killed and at least 76 injured.

Pakistan is a close ally of the US in the war against terror.




Today's Top News
Top World News

Central banker denies yuan revaluation on May 18




New rules to curb surging real estate price




Hu, Soong join hands for Straits peace




Beijing offers Taiwan more conveniences




China and Japan seek to smooth relations




Pressure on yuan revaluation won't work