New rules to curb surging real estate price
(Agencies)
Updated: 2005-05-13 10:48
China is taking a wide range of steps to curb surging real estate prices, using tax and other policies to discourage speculative dealings and ensure a supply of affordable housing, state media announced Thursday.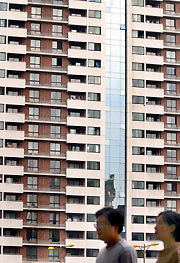 Residents in Nanjing, capital of East China's Jiangsu Province, walk past a newly-constructed apartment building May 10, 2005. [newsphoto]

The campaign, backed by seven government agencies, shows that Beijing recognizes it needs to make cooling the housing market a nationwide priority, the official Xinhua News Agency reported.

Despite the government's powerful vested interest in a thriving property market, authorities worry that too much investment is going into the construction of luxury and commercial real estate and that speculative buying has pushed prices unsustainably high.

Newspapers carried a notice by the State Council, China's cabinet, ordering local governments to make controlling property prices a major part of their economic policy.

Average real estate prices rose by 14.4 percent year-on-year in 2004 and by 12.5 percent in the first quarter of 2005. Shanghai had the "most shocking housing prices in China," with average costs per square meter of over 10,000 yuan ($1,200), the Xinhua report said.

Many urban Chinese own their homes thanks to housing reforms years ago, but cannot afford to buy new property. And low income families are generally priced out of a market that has focused on wealthy investors while neglecting construction of budget housing.

The latest effort to cool the market involve the ministries of construction, finance, and land and resources, along with the State Development and Reform Commission, the State Administration of Taxation, China Banking Regulatory Commission and the People's Bank of China, China's central bank.

The policy change that drew most attention in property crazy Shanghai was one requiring payment of a business tax — the rate was not given — on sales of property less than two years after purchase. It takes effect June 1.

Local governments were ordered to clarify prices and housing sizes before granting land use rights, to limit credit for property deals and to confine real estate developers' profits to a maximum of 3 percent. Developers who fail to build within a year after buying land will be penalized, and those that fail to build within two years after buying property would lose their rights to the land, Xinhua said.

The measures follow earlier, piecemeal steps by local governments.

Last month Shanghai enacted a rule requiring home owners to pay off their mortgages before selling property and extending the time buyers must wait before taking ownership to 28 days, from the previous seven. In March, it imposed a tax on sales of property owned for less than a year.

The measures have definitely had an impact. In April, sales of "second hand," or previously occupied apartments in Shanghai fell between 30 percent and 50 percent, depending on the district, compared with the month before, according to industry statistics published Thursday in the newspaper Oriental Morning Post.




Today's Top News
Top China News

Central banker denies yuan revaluation on May 18




New rules to curb surging real estate price




Hu, Soong join hands for Straits peace




Beijing offers Taiwan more conveniences




China and Japan seek to smooth relations




Pressure on yuan revaluation won't work