Pop star couple caught on tape
By Wendy Liu (Beijing Weekend)
Updated: 2005-05-13 10:12
F4 was the hottest pop band in Taiwan four years ago. Their infamous TV series, F4 Meteor Garden, seared them into the hearts of Asia's teenagers.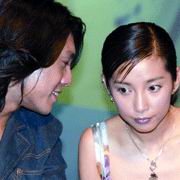 Taiwan pop band F4 member Ken Chu and mainland actress Li Bingbing were caught on tape lip locked in a Beijing hotel. [sohu]

As pop heartthrobs and TV stars these 21-year-old cuties were a shoe-in as the new Asian idols.

Jerry Yan, Vanness Wu, Ken Chu and Vic Chow are F4, but it was Yan who stole the center stage.

First he scandalized Asia with his torrid love affair with their manager and was then caught red handed with Taiwan's sexy model Chiling Lin. Men everywhere drooled in envy while girls cried over Lin's good fortune.

But with all shinning stars, Yan has turned dull. But never fear, another F4 member, Chu, caught the attention of the tabloids in the form of B-actress Li Bingbing.

Li's B-list status recently fell away after her role in A World Without Thieves as the female thief - no more standing in line outside of clubs for this kung fu girl.

But the girl is no dame and has handled herself poorly in public - most notably when she cried at a press conference after being chastised for dressing too casually. Her sadness was factitious, making the public less than sympathetic.

Last summer Chu and Li were cast as the starring roles in the TV series Castle in the Sky in Beijing.

At first, Chu played the nasty megastar to Li's relatively low standing, but in April of this year, things began to heat up.

A Taiwanese magazine published photos of the two outside a hotel elevator - lips locked.

The hotel's security cameras recorded Li coming in and meeting Chu at the elevators. She looked obviously unhappy, at which point the make-out session ensued. A kiss does make it all better; Li didn't leave until the next morning.

But while romance was blooming a heart was breaking. As F4 gossip lovers everywhere dug into the hotel photos, Chu's Japanese girlfriend immediately held a press conference with a tear stained face saying her relationship with Chu was over.

A defiant Chu says he has no girl on the side: "We are only close friends. I look at her as my younger sister."

When the media asked Li to comment, the bratty little sister covered her face and refused to answer.