US senate committee advances Bolton for U.N. post
(Agencies)
Updated: 2005-05-13 07:55
A US Senate committee sent John Bolton's nomination to be U.S. ambassador to the United Nations to the full Senate on Thursday, but without an endorsement after a key Republican branded President Bush's choice as unfit for the job.
While the committee action advanced Bolton's nomination, Republican Sen. George Voinovich's stinging criticisms of Bush's choice for U.N. envoy gave Democrats more ammunition to fight his confirmation in the full Senate on the grounds he was a bully who tried to mold U.S. intelligence to fit his views.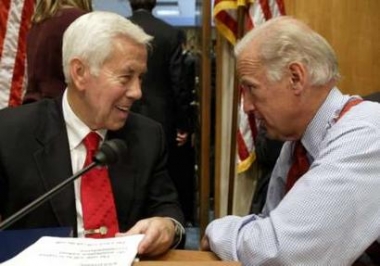 Chairman Sen. Richard Lugar (R-IN) (L) smiles to Sen. Joseph Biden (D-DE) after the US Senate Foreign Relations Committee hearing on UN ambassador nominee John Bolton on Capitol Hill in Washington, May 12, 2005.[Reuters]

Republicans said Bolton's prospects were good in the Senate, which they control 55-45. But Voinovich's criticism and the rare lack of a committee endorsement were embarrassments for Bush who has worked aggressively for Bolton, a favorite of conservatives.

The committee voted 10-8, along party lines, to advance the nomination. Democrats argued that the committee should reject Bolton, 56, and force Bush to find a better candidate.

The White House said it was confident the Senate would back Bolton, who Bush has touted as the best choice to push for reforms at the world body.

"We respect Sen. Voinovich's decision, but there are many people who agree with the president that John Bolton is the right person at the right time for this important position," said spokesman Scott McClellan.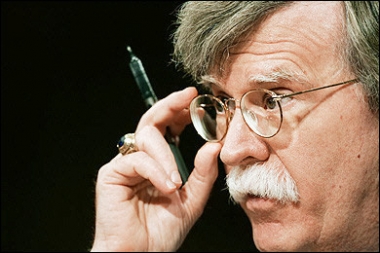 A Senate panel took the rare step of refusing to endorse John Bolton, seen here, the controversial administration candidate to become US ambassador to the United Nations, when it sent to nomination to the full Senate for confirmation.[AFP/File]

It was unclear when the Senate would take up the nomination. Democrats also said they were considering filibustering it -- which would force Republicans to muster 60 supporting votes -- but most said that was unlikely.

Voinovich, who had not tipped his hand earlier on how he would vote, blasted Bolton as "the poster child of what someone in the diplomatic corps should not be."

"The United States can do better than John Bolton," the Ohio senator said. He said the blunt Bolton could worsen the United States' already poor image around the world.

But Voinovich said, "I am not so arrogant to think that I should impose my judgment and perspective ... on the rest of my colleagues. We owe it to the president to give Mr. Bolton an up or down vote on the floor of the United States Senate."

His stance was key, as a 9-9 committee tie could have blocked the nomination from a full Senate vote.

Voinovich later told reporters he thought Bolton's confirmation was in some doubt. "No one is really excited about him," he said.

"COERCED" ANALYSTS

Democrats contend that in his role as top U.S. diplomat for arms control, Bolton has tried to coerce intelligence analysts to conform to his hard-line views, bullied subordinates and had a chilling effect on the intelligence community.

Richard Lugar of Indiana, the committee's Republican chairman, said no information that should disqualify Bolton for the U.N. post emerged in a review of stacks of documents and interviews with 31 witnesses in the last three weeks.

While Lugar said Bolton's behavior was "not always exemplary" and "his blunt style alienated some colleagues," he said, "There is no evidence that he has broken laws or engaged in serious ethical misconduct."

But Democrats and Voinovich argued the inquiry produced a compelling case that Bolton was wrong for the job.

"After poring over the hundreds of pages of testimony ... I believe that John Bolton would have been fired if he'd worked for a major corporation," Voinovich said.

Democrats argued the Senate should not get bogged down in a bruising contest over Bolton's nomination, but instead the administration should find a more acceptable choice.

John Kerry, a Massachusetts Democrat, said there would now be "a serious debate on the floor of the Senate and that debate will not improve Mr. Bolton's standing at the United Nations."

Three Republicans on the committee besides Voinovich expressed concerns about Bolton, but have said they were inclined to back Bush.

But Alaska Republican Lisa Murkowski hedged on whether she would support him in the full Senate. "I said I would support him in the committee. I think the action we took today was right," she said.




Today's Top News
Top World News

Hu, Soong join hands for Straits peace




Power cuts to cast shadow over summer




China and Japan seek to smooth relations




Report: China auto sales hit record high




Foreigners encouraged to seek S&T partners




Pressure on yuan revaluation won't work