Iraq car bombings kill 21, injure 90
(Agencies)
Updated: 2005-05-13 07:45
A car bomb exploded in a jammed commercial district Thursday, devastating the area and turning the sky gray as shops and restaurants caught fire in the most deadly of a string of attacks that killed 21 and included the assassinations of a general and a colonel on their way to work.
Iraqis expressed growing fury at the relentless bloodshed, throwing stones at police and U.S. forces who came to the scene of the bombing. More than 90 were also wounded in Thursday's violence.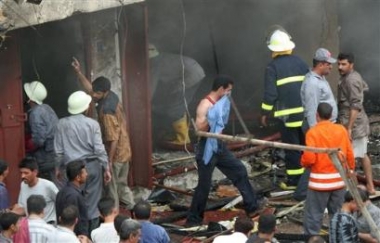 Iraqis rush to the scene to extinguish a fire after a car bomb exploded near a market in eastern Baghdad, Iraq, Thursday, May 12, 2005.[AP]

The attacks came as U.S. troops were in the midst of a major offensive near the Syrian border, 200 miles northwest of Baghdad. Fierce clashes were reported with insurgents on the outskirts of the town of Qaim, where angry residents lashed out at U.S. forces.

"They destroyed our city, killed our children, destroyed our houses. We have nothing left," one man in Qaim told Associated Press Television News. He did not give his name and hid his face with a scarf to address the camera.

Families were fleeing in trucks packed with luggage and APTN footage showed plumes of smoke rising from the town. The U.S. has pounded the area with air strikes, artillery barrages and gunfire in the first days of the offensive aimed at rooting out followers of Iraq's most wanted militant leader, Abu Musab al-Zarqawi.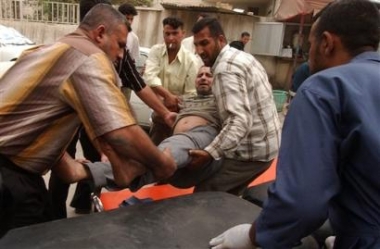 An injured Iraqi man is transported to a local hospital after a car bomb exploded near a market in eastern Baghdad, Iraq, Thursday, May 12, 2005. [AP]

Five more American troops died in Iraq, two during the offensive Wednesday and three others when their convoys hit roadside bombs Thursday in Baghdad and surrounding areas, the U.S. military announced. At least 1,611 members of the U.S. military have died since the beginning of the Iraq war in March 2003, according to an Associated Press count.

More than 420 people have died in the two weeks since Iraq's first democratically elected government was announced.

At the Pentagon, Gen. Richard Myers, chairman of the Joint Chiefs of Staff, indicated Thursday that the insurgency could last for many more years.

"This requires patience," he said at a news conference. "This is a thinking and adapting adversary ... I wouldn't look for results tomorrow. One thing we know about insurgencies, that they last from three, four years to nine years."

"What we're seeing is really an attempt to discredit this new cabinet and new government," Myers said. "This is, the most cases, Iraqis blowing up other Iraqis. And I don't how they expect to curry favor with the Iraq population when we have Iraqi-on-Iraqi violence."

Scores of Iraqis in Baghdad vented their frustration at the nonstop violence, beating two Iraqi photographers and throwing rocks at Iraqi police and U.S. forces at the site of the bloody car bombing near a market, cinema and mosque.

The U.S. and Iraqi troops fired in the air to disperse the crowd, according to an Associated Press photographer at the scene.

The blast, which set fire to shops, restaurants and cars, killed 17 Iraqis and injured 81, including women and children, police said. About 15 minutes later, the fuel tank of a burning car also exploded, wounding three more people, police said.

In all, four car bombs hit Baghdad on Thursday, two of them suicide attacks, said Master Sgt. Greg Kaufman, a U.S. military spokesman. At least two of the attacks targeted U.S. patrols, he said, but he had no immediate word on casualties. Police said a suicide car bomber targeting an American convoy on a highway injured two civilian bystanders.

Elsewhere in the capital, insurgents assassinated Col. Fadhil Mohammed Mobarak on his way to work at the Interior Ministry, and Brig. Gen. Iyad Imad Mahdi, who worked at the Defense Ministry, police said. Al-Zarqawi's al-Qaida group in Iraq claimed responsibility for Mobarak's death in an Internet posting. The claim could not be verified.

Two more car bombs exploded in Kirkuk, about 180 miles north of Baghdad, police said. One blast occurred near a police station, killing two people and wounding two, authorities said. The other occurred at a site where explosives experts were dismantling a homemade bomb and two explosive experts were wounded, police said.

The Sunni militant Ansar al-Sunnah Army claimed responsibility for both Kirkuk attacks on its Web site, claims which also could not be verified.

Near the Syrian border, hundreds of American troops searched sparsely populated desert outposts house by house for insurgents as Operation Matador entered its fifth day.

Residents reached by telephone in the villages of Karabilah and Saadah reported hearing heavy bombardments in the morning.

On the outskirts of Qaim, a group of masked gunmen armed with machine guns, remained defiant.

"We will fight whoever comes, whether they are American or Arab," one of them told APTN.

The offensive was launched after U.S. intelligence showed large numbers of insurgents had moved into the northern Jazirah Desert following losses in Fallujah and Ramadi, further east. The area is believed to be a staging ground for foreign fighters crossing into Iraq from Syria along ancient smuggling routes.

The U.S. military has confirmed five Marine deaths so far and says about 100 insurgents have been killed in the operation — one of the largest U.S. offensive since Fallujah was reclaimed from militants.

However, The Washington Post, which has a journalist embedded with the offensive, put the number of Americans killed at seven in a Thursday report. Six of the dead came from a single squad, which also had 15 wounded, according to the Post.

In one battle early in the offensive, foreign fighters holed up in a house in Obeidi killed two Marines and wounded five, the report said. In another attack, an explosive device detonated under their vehicle, killing four Marines and wounding 10, it said.

The article identified the squad as one of three belonging to the 1st Platoon of Lima Company, 3rd Battalion, 25th Regiment.

"They used to call it Lucky Lima," the Post quoted Maj. Steve Lawson, the commander of the company, as saying of the badly hit squad. "That turned around and bit us."

U.S. military spokesman Capt. Jeffrey Pool said a U.S. Assault Amphibian Vehicle struck an explosive device in Qaim on Wednesday night, killing two Marines and wounding 14. It was not clear whether he was referring to the same incident mentioned in the Post article.

Stepped up raids also continued in other parts of Iraq. Iraq's government announced the capture of two more wanted insurgents — one a bomb maker with links to al-Zarqawi called Seif-Eddine Mustafa al-Naimi, the other a financier for an insurgent group linked to al-Qaida in Iraq identified as Amar Farid Abdul-Qader Ashur al-Jibouri.

Meanwhile, Australia's top Islamic leader met with clerics in Baghdad on Thursday to appeal for the release of Australian hostage, Douglas Wood. Sheik Taj El Din al-Hilaly told reporters he had made no contact yet with Woods' captors, but said he was ready to negotiate with anyone.

There has been no word of Wood's fate since his kidnappers' deadline for Australia to start withdrawing its forces from Iraq passed Monday.

More than 200 foreigners have been kidnapped in Iraq since Saddam Hussein's regime collapsed in April 2003. More than 30 have been killed by their captors.




Today's Top News
Top World News

Hu, Soong join hands for Straits peace




Power cuts to cast shadow over summer




China and Japan seek to smooth relations




Report: China auto sales hit record high




Foreigners encouraged to seek S&T partners




Pressure on yuan revaluation won't work