Report: China auto sales hit record high
(Agencies)
Updated: 2005-05-12 23:33
SHANGHAI, China -- Sales of passenger vehicles in China hit a record monthly high of 285,360 in April as buyers plunged back into the market, but first-quarter profits dropped sharply amid falling sticker prices and surging costs, reports said Thursday.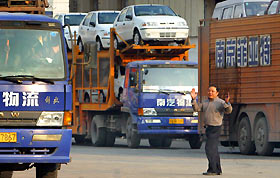 A man conducts the lorries transporting China-manufactured Fiat cars in Nanjing May 11, 2005. [newsphoto]

The April figure for total passenger vehicle sales, including cars, multipurpose vehicles and sport utility vehicles, was up 15.7 percent over April 2004 and up 7.2 percent from March, the state-run newspaper Shanghai Daily reported. It cited figures from the China Automobile Manufacturers Association.

Sales languished in the first two months of the year as buyers held back, waiting for more price cuts from automakers fighting for growth in an increasingly competitive market. But such cuts ended by March, when sales began to rebound.

Sales of cars in April rose 18.2 percent on-year to 257,337, the report said.

"It seems that frequent price reductions and discount offers came to a temporary stop in April, which convinced some potential buyers to purchase without waiting any longer," Rao Da, secretary general of the industry group, was quoted as saying.

Chinese automakers sold 901,380 cars in the first four months of this year, a year-on-year increase of 3.2 percent, the report said.

Sales of SUVs, generally used by government agencies or by affluent families for recreation, plunged 25 percent on-year in January-April to 46,510 units, it said.

"Firms with SUV products alone may be forced to close if they don't work out plans to change their lineup," Rao said.

Output of passenger vehicles totaled 271,889 units in April, up 1.3 percent from a year earlier and 6.4 percent from March, the report said.

Despite the rebound in sales, domestic auto industry profits tumbled 58.5 percent on-year in the first quarter to 7.64 billion yuan (US$925 million; euro723 million), the state-run newspaper China Daily reported.

It was the third consecutive quarterly decline since the third quarter of last year, the paper said, citing a report by the National Bureau of Statistics.

The figures included all auto-related business.

China's more than 100 vehicle makers saw first-quarter profits plummet 75.4 percent compared with the same period of 2004 to 2.9 billion yuan (US$350 million; euro273 million), China Daily said. Profits in the auto parts sector slipped 28 percent on-year to 4 billion yuan (US$489 million;euro382 million), the report said.

Total demand for new vehicles is forecast to climb by 12 percent to 5.6 million units this year, with sales of passenger cars rising 15 percent to 2.6 million units, it said.







Today's Top News
Top China News

Hu: Peace, stability common aspirations




Pressure on yuan revaluation won't work




China seeks resolution to textile issue




China Southern to buy 45 Boeings at US$3bln




Russia says it uncovers US spy activity




White House, Capitol emptied in plane scare