Three more dead in Afghan anti-US protests
(Agencies)
Updated: 2005-05-12 23:12
KABUL - Three more people were killed in eastern Afghanistan in protests against the alleged US abuse of the Koran, raising the death toll from three days of unrest to seven, officials said.
Two people were killed during demonstrations in Khagyani, a town just northwest of Jalalabad, deputy governor of Nangarhar province Mohammad Asif Qazizada told AFP. Four people died in Jalalabad on Wednesday.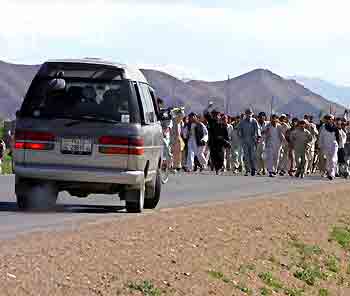 A passenger vehicle turns away from protestors armed with stones and sticks in Logar province, about 40 km (25 miles) southwest of Kabul May 12, 2005. Demonstrations spread in Afghanistan on Thursday over a report that U.S. interrogators at Guantanamo Bay had desecrated the Koran, and officials said three protesters were killed. [Reuters]

"Two demonstrators died and one was seriously injured in Khogyani district today after armed protestors opened fire at police," Qazizada said.

The other person died in Chak district of Wardak province, interior ministry spokesman Lutfullah Mashal said.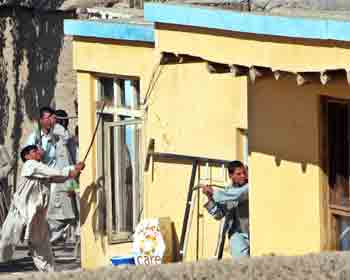 Afghan protestors smash windows of a buliding belonging to the Care aid group, an international organization, in Logar province, about 40 km (25 miles) southwest of Kabul May 12, 2005. [Reuters]

"Demonstrators attacked the Chak district police headquarters and set fire to its weapons stock. The explosion killed one demonstrator and wounded four others," said Mashal.

The demonstrations have now spread to 10 provinces in Afghanistan, with total casualties of at least seven dead and 76 injured, he added.

On Thursday there were repeated demonstrations in the capital Kabul as well as the provinces of Nangarhar, Parwan, Kapisa, Takhar and Logar.

The protests were sparked by allegations in Newsweek magazine last week that interrogators at the US military detention center in Guantanamo Bay, Cuba, desecrated a Koran by stuffing it down a toilet to rattle Muslim prisoners.




Today's Top News
Top World News

Hu, Soong join hands for Straits peace




Beijing offers Taiwan more conveniences




China and Japan seek to smooth relations




Power cuts to cast shadow over summer




Report: China auto sales hit record high




Foreigners encouraged to seek S&T partners