Russia says it uncovers US spy activity
(Agencies)
Updated: 2005-05-12 23:07
MOSCOW - Russia has uncovered U.S., British, Kuwaiti and Saudi spy activity that was being conducted under the cover of non-governmental organizations, the head of the national security agency said Thursday.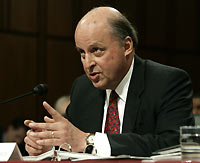 John Negroponte speaks at a Senate Select Intelligence Committee hearing on his nomination for the new post of Director of National Intelligence, on Capitol Hill in Washington April 12, 2005. Negroponte, President Bush's choice as the first director of all U.S. intelligence activities, told senators Tuesday that reforming the various spy agencies will be a central focus of his new job. [Reuters]

Federal Security Service chief Nikolai Patrushev also suggested that foreign governments are using NGOs to fund and support changes of power in former Soviet republics.

Patrushev told parliament that his agency, which is known by its Russian acronym FSB and is the main successor to the Soviet KGB, has prevented espionage operations by the United States, Britain, Kuwait and Saudi Arabia.

His comments came two days after President Bush visited Georgia, site of the "Rose Revolution" 18 months ago that marked the start of a wave of uprisings against entrenched leaders in ex-Soviet republics.

"The activity by these states was conducted by non-governmental organizations working in Russia," Patrushev said. He did not name any organizations or give details about the alleged spying.

Patrushev, who is considered a close ally of President Vladimir Putin — a longtime KGB officer and former FSB chief — said "foreign intelligence services are using nontraditional methods" along with classic spying techniques.

"Lobbying of the interests of foreign states and information-gathering are conducted under the cover of various humanitarian and educational programs," he said.

Patrushev reiterated claims by Russian officials who have accused the United States and other Western nations of using NGOs to aid opposition forces that have brought down governments in other ex-Soviet republics. The "Rose Revolution" was followed by an uprising followed in Ukraine, then in Kyrgyzstan.

"Our opponents are steadily and persistently trying to weaken Russian influence in the Commonwealth of Independent States and the international arena as a whole," Patrushev said. "The latest events in Georgia, Ukraine and Kyrgyzstan unambiguously confirm this."

Patrushev suggested Russia believes the next Western target is Moscow ally Belarus, where U.S. officials have not masked their disgust at authoritarian President Alexander Lukashenko and have called for free elections next year.

He said that "according to certain information, more than $5 million has been earmarked by non-governmental organizations for financing future elections," and claimed there were efforts to bring Ukrainians who protested the former government during last year's "Orange Revolution" to foment change in Belarus.

The FSB routinely claims to have uncovered spying by foreign countries, including the United States, but Patrushev's remarks in the lower parliament house came days after Putin and Western leaders, including Bush, celebrated unity during commemorations of the 60th anniversary of the Allied victory over Nazi Germany. Putin also reached a new agreement this week deepening cooperation with the European Union.

Patrushev's statement was the latest from a top official assailing civil society groups, which Putin criticized last year as often being more interested in foreign funding than in helping the Russian people.




Today's Top News
Top World News

Hu, Soong join hands for Straits peace




Beijing offers Taiwan more conveniences




China and Japan seek to smooth relations




Power cuts to cast shadow over summer




Report: China auto sales hit record high




Foreigners encouraged to seek S&T partners