Pressure on yuan revaluation won't work
(Agencies)
Updated: 2005-05-12 16:07
China's central bank said it will not bow to external pressures to revalue its currency and blamed the United States for creating a negative environment for any eventual loosening of the yuan peg.
The comments by People's Bank of China (PBOC) vice governor Wu Xiaoling came a day after billions of dollars of speculative money was let loose on forex markets worldwide after very confused reports that China would revalue the currency on May 18.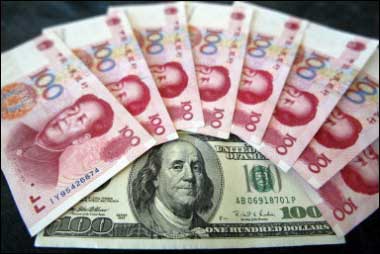 Chinese yuan amd US dollars. China's central bank says on May 12 it will not bow to external pressures to revalue its currency and blamed the United States for creating a negative environment for any eventual loosening of the yuan peg. [AFP]

"Originally there was a pretty good environment (for reform)," Wu said. "It is not proper to say that the reform direction of the Chinese government is being carried out under pressures from outside."

She especially targeted pending legislation in the US Congress which threatens to impose a 27.5 percent tariff across the board on Chinese imports if Beijing does not loosen the peg within six months.

This pressure has resulted in rampant speculation that currency reform could come sooner rather than later, prompting a flood of hot money into Chinese assets, especially property, in expectation of a yuan appreciation, she said.

It has also hamstrung the government's macro-reform policy.

"We are making efforts in our work (to reform the forex regime) but we never thought that in the first quarter of this year that they (the US Congress) would put out such a plan," Wu said.

The PBOC said Wu's comments were made in an interview with the Japanese press on April 27 but they only appeared on the bank website Thursday after forex markets went wild Wednesday following the reports of an imminent revaluation.

The central bank forcefully rejected those reports late Wednesday but the damage had been done before the markets finally calmed down.

China has fixed its yuan currency in a narrow band at around 8.28 to the dollar for the past decade. And major trading partners claim that at that level it gives Chinese exports an unfair advantage.

Regarding China's huge trade surplus with the United States in the first quarter, Wu said it was not what Beijing wanted to see as it resulted from a boom in exports amid a growing trade row over Chinese textile shipments.

"We don't think that this is a good thing, this has increased trade frictions and increased the pressure on the yuan to increase.

"The growing expectations that the yuan will rise in value has led enterprises to quicken the pace of their exports and slowed down imports," she said.

"China has a trade deficit with Asian countries, including Japan and South Korea. Theoretically, nobody can really come up with an accurate value of the exchange rate."

Chinese authorities have repeatedly signalled they are willing in principle to change the forex system, making it more flexible and responsive to market forces, but have refused to set a timetable.

"What happened (Wednesday) won't change the plan to reform the forex regime but it could impact the timing of the change," Huang Yiping, a Hong Kong-based economist with Citibank, told AFP.

"The fact that there has been lots of market movement, I think it will make them more cautious but in the end (forex reform) is unavoidable," he said, adding that a change was likely "within the next few months."

Chen Xingdong, the Beijing-based chief China economist at BNP Paribas, also said China would act more cautiously.

He said new controls on property prices announced Thursday signaled that Beijing was trying to rein in speculation in an effort to smooth the way a change on the yuan.

"Forex speculation and the influx of foreign capital into the property market are two sides of the same coin," he said.

"With these new controls the risk and cost for speculation in both property and in the (yuan) has substantially increased. China is trying to control the price in property to tone down the speculation."

China is expected to delink the yuan from the US dollar and fix against a basket of currencies by the end of this year or early in 2006, he said.

"They will wait until the current round of speculation has largely declined. After what happened (Wednesday), they will be more patient," he said.