Japan seeks clues to fate of Iraq captive
(Agencies)
Updated: 2005-05-12 13:01
The fate of a Japanese man missing in Iraq is still unknown, officials in Tokyo said on Thursday, two days after a militant group claimed to have captured him, but his employer said he may have died of injuries.
Akihiko Saito, 44, a former paratrooper and veteran of the French Foreign Legion, has been missing in Iraq since a convoy he was traveling in was attacked in the town of Hit on May 8.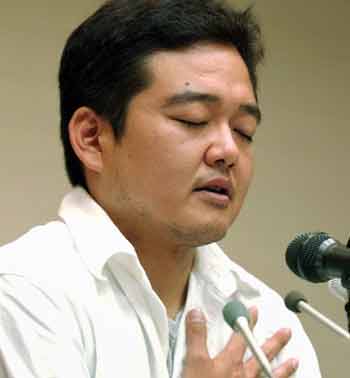 Hironobu Saito, the younger brother of Akihiko Saito who was seized by an Islamic militant group in Iraq, closes his eyes during a news conference in Chiba, east of Tokyo, May 12, 2005. [Reuters]

Teams of officials were working round the clock to gather information, Japan's top government spokesman said on Thursday.

"It is still unclear what has happened to Mr Saito, including whether or not he was kidnapped," Chief Cabinet Secretary Hiroyuki Hosoda told reporters.

The group, called Army of Ansar al-Sunna, has issued no demands since posting a photograph of Saito on its Web site on Tuesday, saying it had captured him and he was seriously injured.

The British security company that employs Saito said on its Web site that he may have died of wounds sustained in the attack.

"We have not given up hope that Akihiko Saito may still be alive. However an eyewitness report indicates that wounds sustained at the time of the incident may have proved fatal," Hart Security said in a statement on the Web site.

"The ambush was complex and well planned, incorporating the use of multiple improvised explosive devices, rocket-propelled grenades, machinegun fire and small arms fire," it said.

Six Japanese civilians have been kidnapped since the war in Iraq began, but this is the first time a Japanese with such military experience has been captured.

Japan's defense chief, Yoshinori Ohno, said on Tuesday that the kidnapping would not affect the activities of the 550 or so Japanese troops carrying out humanitarian and reconstruction work in southern Iraq.




Today's Top News
Top World News

Parties pledge to combat 'Taiwan independence'




China seeks resolution to textile issue




China Southern to buy 45 Boeings at US$3bln




Bank: No yuan change, unpeg report wrong




White House, Capitol emptied in plane scare




Kissinger: US supports cross-Straits dialogue